044 – Product Development and Evolution with Karyn Ranzau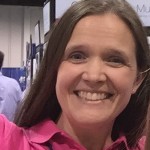 Karyn Ranzau is the owner of Little Pink Ladybug. The company sells templates that allow crafters to create multi loop and layered custom bows for hair accessories and numerous other applications.
Karyn started making bows eleven years ago. In 2008, after the creation of the template bow making system, Little Pink Ladybug as a business was born.
In addition to running the business, Karyn home-schools her daughter, volunteers at her son's school, is a Comfort Dog Handler for her church and a leader for a troop of American Heritage Girls.
She's a perfect example of how you can integrate a successful business into an active family life … and did I mention she also has a wonderful husband, Robert and two dogs?
All the while, her love for crafty creative endeavors somehow finds its way to shine through each and every day.
Motivational Quote

Business Inspiration
The idea came from a place of need – who knew what would happen next! [4:08]
A pivot in the business happened when Karyn identified a new need [4:60]
A Candle Flickering Moment
Oh no! They needed a warehouse quick! [19:28]
Considering this potential partner and their actions were a mistake [21:30]
Business Building Insight
Thoughts behind naming the company [11:19]
Getting bows into the intial 11 stores [7:19]
The first templates – evolution of a product [11:46]
Moving to overseas production [14:22]
How she saved her customers during a delivery crisis [16:03]
Success Trait
Being a perfectionist helped Karyn create a quality product with detailed and desired finishing touches.
Productivity/Lifestyle Tool
Listing the overall priorities of their life … not the priority of tasks each day, keeps Karyn and Robert grounded on what is truly meaningful and important in their life.
Valuable Book
7 Secrets of Success: Live Up to Your Greatness by Marko Lamza
Little Red Book of Selling: 12.5 Principles of Sales Greatness by Jeffrey Gitomer
Contact Links
If you found value in this podcast, make sure to subscribe and leave a review in Apple Podcasts or Google Podcasts. That helps us spread the word to more makers just like you. Thanks! Sue