061 – Luxe Bloom Roses Last 60 Days Without Water! with Shelly Rosen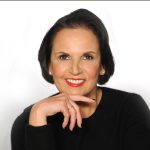 Shelley Rosen, is Founder and CEO of Luxe Bloom, a venture-backed Chicago based start-up. Luxe Bloom delivers a transformative innovation by offering natural, long-lasting rose arrangements to luxury business operators on a subscription basis. Luxe Bloom roses do not require water or refrigeration to keep their supple beauty and last 60 days.
Shelley was an executive at McDonald's Corp for over twelve years. She directed global strategic planning efforts in the areas of innovation, global brand strategy and issues management. She led the first ever global innovation effort for McDonald's resulting in the launch of REDBOX, dvd vending rental; today a $1 billion company. During the obesity crisis she led and developed a new brand platform called McDonald's Balanced Lifestyles. Today McDonald's offers nutritional labeling and new menu items such as; salads, apples and low fat milk options as a result of this effort.
Ms. Rosen holds a Bachelor's Degree from the University of Michigan. She has attended Executive Development courses at Harvard University on Leadership as well Strategic Business Management Classes at the University of Chicago. Shelley is the Chair of Economics Club of Chicago Nominating Committee. She was Trustee of Columbia College for ten years in an effort to help inspire tomorrow's creative leaders.
Motivational Quote

Business Inspiration
The origin Luxe Bloom [5:19]
The startup lifestyle of an entrepreneur [8:47]
Candle Flickering Moments
She didn't win the Saks Fifth Avenue account … and then this happened! [21:46]
Business Building Insight
When developing a product you must have Proof of Concept [7:16] and [12:56]
Hugo Boss – the first big account [9:25]
Getting visibility in a big way for the first time [15:43]
Her two current challenges [18:51]
B2B versus B2C thoughts [21:24]
Shelley's QVC experience [23:57]
Insightful Stories/Concepts
Fake it til you make it with the Waldorf Historia [10:29]
Eat the broccoli on your plate first [27:59]
A Bamboo Forest [30:50]
Success Trait
Hear Shelley explain her belligerent perseverance [25:31]
Productivity/Lifestyle Tool
For Shelley it's the traditional pencil and paper to make her list of tasks for each day. [27:21]

Contact Links
If you found value in this podcast, make sure to subscribe and leave a review in Apple Podcasts or Google Podcasts. That helps us spread the word to more makers just like you. Thanks! Sue