062 – Crushing It as a Local Retailer with Karl Benson of Cooks of Crocus Hill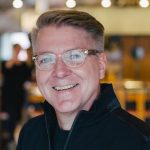 For more than 25 years, Karl has been engaged in various positions in business ownership, sales, marketing, and organizational development. During the last 15 years he has served as Owner of Cooks of Crocus Hill in St. Paul, MN. Cooks of Crocus Hill is a brand driven, specialty culinary retailer and educator focused on the belief that Life Happens in the Kitchen.
Karl is also the founder and creator of LifeRecipe, a corporate wellness program focused on changing the way people eat and improving their relationship with food.
Karl holds a passion for creating and delivering a thoughtful, stylish and energetic brand experience. He has worked on a variety of branding projects with domestic and international clients including Target/Marshal Fields, Health Partners, The Mayo Clinic, Zwilling and Mauviel.
Motivational Quote

Business Inspiration
A chance dinner conversation and the meeting for coffee that changed Karl's life [5:43]
Candle Flickering Moments
Taking the chance on a new location different from their already successful model [26:03]
Business Building Insights
Staying true to your own entrepreneurial interests [13:42]
Karl's advice on surviving as a retailer [17:10]
The second retail store changes everything [18:28]
Karl describes how Cooks of Crocus Hill is different from everyone else [20:58]
The web strategy [22:20]
What's next – another new location! [30:28]
Winning the Global Innovators Award [38:21]
Success Trait
Perseverance and Persistence are the natural traits leading to Karl's success.
Productivity/Lifestyle Tool
The Mobius Method and it's value in their business [35:12]

Contact Links
If you found value in this podcast, make sure to subscribe and leave a review in Apple Podcasts or Google Podcasts. That helps us spread the word to more makers just like you. Thanks! Sue