BONUS: Managing the Corona Crisis in Your Handmade Business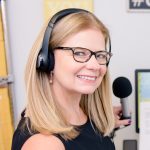 COVID-19 has obviously become a global crisis on a scale none of us have lived through before. This sounds dramatic and it definitely feels that way since we're in the midst of it right now.
It's hard to see the finish line. Nobody knows how long school and restaurant closings will be. Social distancing is a new term that we are all too familiar with at this point. And we now appreciate and long for the life we led just a couple of weeks ago.
I'm not going to downplay this. Many live paycheck to paycheck and have or are at risk of being laid off. Local business owners don't know if they'll survive depending on how long the shutdown goes on. There are a lot of uncertainties right now. And these unknowns cause fear.
I was hesitant to do a podcast about this because I don't claim to be an expert on the virus. Obviously. But I can't go on as usual acting like it doesn't exist. So I want to share with you my perspective and give you concrete actions you can take to help level out the anxiety you may be feeling. And possibly, present some upside to this crisis. I mean with all the disruption, wouldn't it be great if something positive, however large or small, came out of this?
In this special bonus episode, I share tangible actions that you can take to keep yourself healthy both physically and financially with your handmade business.
Join Our FREE Gift Biz Breeze Facebook Community
Become a Member of Gift Biz Breeze
If you found value in this podcast, make sure to subscribe so you automatically get the next episode downloaded for your convenience. Also, if you'd like to do me a huge favor, please leave a review. That helps other creators like you find the show and build their businesses too.
Thank so much! Sue