174 – Why Etsy for Handmade Sellers with Danielle Spurge of The Merriweather Council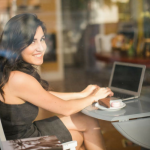 Danielle is a maker and craft business consultant who loves iced lattes and pop music.
Through her work at The Merriweather Council, Danielle teaches creative people how to turn their crafty tendencies into profits.
On her blog and podcast, Danielle aims to inspire and support makers in business and share insights from her eight years of experience selling handmade work online.
Danielle believes in celebrating the reality of gainful self-employment through craft and wants to help more artists, crafters and designers share their work with more confidence.
Business Building Insights
For most, you don't wake up one day and have this great big business plan. More likely, you make something and want to figure out how to sell it.
To start your business, find someone who can be a resource and you trust to guide you.
Etsy is a strong platform for the handmade seller and comes with a solid audience of buyers.
If you want a business that's sustainable and viable into the future, you'll also want your own website in addition to your Etsy site. It's important to have that autonomy.
Etsy can bring you traffic initially and then you can capture prospects information and keep up the relationship on your own site.
When there are website issues, Etsy can be a back up to your primary site.
Etsy is a place where you can cultivate media attention and get features in their space.
Put your products in a light that aligns with trends that Etsy is currently featuring or promoting.
Start an Etsy shop with at least 30 products. Give people a reason to look around.
Stock your Shop. It's a numbers game. The more listings you have, the more opportunity you have to be discovered and make a sale.
Do not overwhelm yourself with to dos. Don't rush into your new business. Take your time. Be intentional. Be patient with yourself.
Resources Mentioned
Trello – app to have one centralized location for organization
Danielle's Gift to Us
Etsy Lessons – a free series to help you unlock the power of Etsy
Contact Links
Gift Biz Resources
If you found value in this podcast, make sure to subscribe and leave a review in Apple Podcasts or Google Podcasts. That helps us spread the word to more makers just like you.
Thanks! Sue