285 – Integrating Private Label Products into Your Small Business with Anne Mitchell of So El Paso
Looking for a new income stream to add to your product business? Anne Mitchell shares how she created a private label business and how you can, too.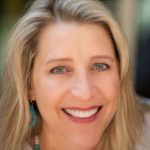 After opening and selling one retail store in Austin and then another in El Paso, it's fair to say that Anne has a good grasp of the retail landscape in Texas. What she realized during that time was that there were no items available to represent El Paso.
She's a 4th generation El Paso, Texan, and takes great pride in having attended Texas A&M during 5 successful football seasons in the Southwest Conference. So not being able to stock products representing El Paso simply wouldn't do.
Enter So El Paso, her current venture, which began in 2015. It's now a retail, wholesale and internet business offering a line of gourmet products including salsas, jams, nuts, and more.
BUSINESS BUILDING INSIGHTS
Brick and mortar is all about the experience. That's what customers can't find online.
Listen to what your customers say they want. You may discover a way to grow your business by adding in what they request – even if it doesn't seem like your thing, at first.
If someone reaches out to you about your product, call back even if it seems like a long shot. You never know where opportunities will come from.
When you have a physical store, every product on every inch of the store needs to pay its way.
Create a unique brand. People love to hear the story behind your brand.
Listen to the full conversation to get a ton more biz building insights!
Private Label Products For Small Business
You can use your own recipes or use published ones to create your own private label products.
Even existing products manufactured by others can be private labeled as yours, allowing you to focus on just sales and marketing.
If you sell private labeled products, you must have liability insurance AND your manufacturer(s) must have liability insurance.
Going to trade shows and meeting your vendors is key. The connections and interactions make all the difference. Don't skip this even if it feels expensive and time-consuming.
Networking has lead to so many opportunities. Don't neglect your contacts.
Tune in to the full episode for all of Anne's private label tips!
Anne's Contact Links
Website | Facebook | Instagram | Linkedin
---
Join Our FREE Gift Biz Breeze Facebook Community
Become a Member of Gift Biz Breeze
If you found value in this podcast, make sure to subscribe so you automatically get the next episode downloaded for your convenience. Click on your preferred platform below to get started.
Also, if you'd like to do me a huge favor – please leave a review. It helps other creators like you find the show and build their businesses too. You can do so right here: Rate This Podcast
Apple Podcasts | Google Podcasts | Spotify
Thank you so much! Sue
Know someone who needs to hear this episode?
Click a button below to share it!