286 – 7 Specific Targets to Create a Confident Money Mindset as a Small Business Owner with Johnny McWilliams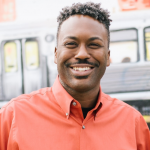 A lot of small business owners struggle to maintain a positive money mindset. And it's become more and more obvious that mindset can make all the difference! That's why Johnny McWilliams is here sharing 7 specific targets you can aim for to establish a positive money mindset for continued success in your product business.
Johnny is a Certified Ramsey Financial Coach, helping people with their relationship with money. After working in the areas of real estate, tax preparation, insurance, financial investing, and completing an MBA, he decided not to sell financial products.
He's taking a different approach to money. Johnny's passionate about providing practical, biblical principles to guide his clients as they Zero In on their financial target.
Through his blog, Zero In On This, Johnny writes about the 7 specific targets everyone needs to focus on. He teaches his readers to have a purposeful point-of-view when it comes to the financial resources they have the privilege to manage.
He believes that money is merely a tool used throughout the journey of pursuing one's unique purpose.
BUSINESS BUILDING INSIGHTS
Don't think of your budget as a restriction. Rather it's how you tell your money where to go.
Money principles give you a guide and a pattern instead of just spending willy nilly.
Dig dip and find what success is for YOU. Understand why you are in this business. Why are you doing this? Keep going until your why makes you cry. If it doesn't, it's not big enough.
Money is not directly tied to your why.  It is a tool you use for a specific purpose.
Give big without spending a penny. Sharing your time and talents to bless other people is a huge way to give.
Admit to yourself that you need help with money management and be willing to grow.
Don't be afraid to help in any area of your life. Nobody can be an expert at everything.
Listen in to get more amazing biz-building insights around money!
7 Specifics Targets For A Positive Money Mindset
Target 1: Prayerfully plan
Target 2: Increase your inflow
Target 3: Optimize your outgo
Target 4: Demolish it
Target 5: Cancel credit and grow at the speed of cash
Target 6: Strategically save
Target 7: Generously give
Tune in to the full conversation for details about these targets – plus a ton more money mindset tips!
Resources Mentioned
Johnny's Contact Links
Website | Facebook | Instagram
---
Join Our FREE Gift Biz Breeze Facebook Community
Become a Member of Gift Biz Breeze
If you found value in this podcast, make sure to subscribe so you automatically get the next episode downloaded for your convenience. Click on your preferred platform below to get started.
Also, if you'd like to do me a huge favor – please leave a review. It helps other creators like you find the show and build their businesses too. You can do so right here: Rate This Podcast
Apple Podcasts | Google Podcasts | Spotify
Thank you so much! Sue
Know someone who needs to hear this episode?
Click a button below to share it!