011 – Being on Oprah's List with Susie & Jill of The Cookie Joint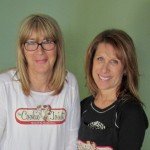 Jill Balick and Susie Schuster started The Cookie Joint® as a way to express their deep devotion to all things cookies, and their desire to make eating cookies fun again.
Susie is a former mosaic artist and Jill is a former jewelry designer. Their creativity and love for baking is what brought them together.
Cookie Fries, their signature cookies, are designed to look like crinkle-cut French fries. They blend Jill's taste for sweet and Susie's preference for salty, along with their combined sense of humor.
In October 2014, The Cookie Joint was on Oprah's O list. Susie and Jill recently filmed a food network show called Food Fortunes and they were also featured in American Airlines in-flight magazine.
Motivational Quote

Business Inspiration
Susie and Jill brought creativity and knowledge from past businesses, combined with their love of baking to life in a new business. Days of brainstorming led them to their signature product. [5:22]
A Candle Flickering Moment
Broken cookies arrived at a wedding event. They acted fast to correct the situation and learned how to overcome the unpredictable shipping challenges. Listen in to discover their unique testing activities to arrive at the reliable system they have today. [7:29]
Business Building Insight
Being on Oprah's "O" List – the front cover  no less – definitely elevated The Cookie Joint's visibility and sales. [10:50]
Success Trait
The natural desire to make people feel good leads to each customer walking away with a positive experience. [16:15]
Productivity/Lifestyle Tool
Exercise – Morning business walks keep Susie and Jill productive and healthy to face the day ahead. [18:40]
Valuable Book
How to Bake a Perfect Life by Barbara O'Neal
Contact Links
If you found value in this podcast, make sure to subscribe and leave a review in Apple Podcasts or Google Podcasts. That helps us spread the word to more makers just like you. Thanks! Sue