249 – Make the Growth of Your Business Easier with Josh Elledge of Up My Influence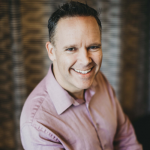 Josh Elledge is U.S. Navy veteran and launched Up My Influence to help entrepreneurs attract the perfect audiences and grow their brands without the crazy costs associated with traditional PR companies.
Up My Influence's purpose is to DEMOCRATIZE access to influence. Josh believes he has a moral imperative to help entrepreneurs serve the world with their collective messages while growing their revenue!
Up My Influence was the natural outgrowth of his first startup, Savings Angel which has grossed more than $6 million in sales with less than $500 in advertising. He did it all through building authority and serving audiences in the media.
Josh is a weekly TV consumer expert in Orlando, writes a syndicated newspaper column to 1.1 million readers and regularly appears on more than 75 TV stations across the country. All told, Josh has appeared in the media more than 2000 times.
Josh loves living in Orlando, FL with his wife and three children.
BUSINESS BUILDING INSIGHTS
Identify a life mission that you are passionate about to keep yourself in a peak energy state to serve others.
There will be bad circumstances in business. Our goal is to succeed despite the circumstances.
Build your business for a season of winter – for the hard times. Make it resilient.
When you focus on business growth, the majority of your work should be to create awareness. You have to get in front of eyeballs.
PR (Public Relations) is communicating with audiences. Offer a lot of value and people will be drawn to you.
Earning high authority in your industry opens you up to more opportunities.
Having media logos on your site will improve your conversion rate.
Constantly invest into the bank of your brand and your authority.
Communicate that you can solve your customer's problem and provide social proof behind what you do.
Have professional and consistent social media profiles.
RESOURCES MENTIONED
CONTACT LINKS
Join Our FREE Gift Biz Breeze Facebook Community
Become a Member of Gift Biz Breeze
If you found value in this podcast, make sure to subscribe so you automatically get the next episode downloaded for your convenience. Also, if you'd like to do me a huge favor, please leave a review. That helps other creators like you find the show and build their businesses too.
Thank so much! Sue