250 – Why Starting with In Person is Best with Mary Bemis of Reprise Active Wear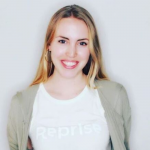 Mary is the founder of Reprise, a line of plant-based activewear aiming to free your closet from plastic.
She founded the company to educate us about the ingredients in our clothing, so we have more control over our health and wellness.
Reprise products never contain oil-based synthetics or recycled plastics because of their impact on the planet. Mary believes your skin deserves only the best, so they only work with plant-based fabrics to give you the cleanest wear.
Mary envisions a future where people not only look to see what's in their clothes, but they expect better materials.
She's passionate about environmentalism and is an active member of the NYC sustainability community.
BUSINESS BUILDING INSIGHTS
Invest in education about a topic that interests you and see if there's an opportunity to create a business out of it.
You can identify and gain access to needed resources by being in person with people who share the same passion as you do. They may hold the missing piece of information that will motivate you to get started.
Don't let the fact that there are other products out there similar to yours deter you from starting your business. There's a way to make it unique. There's a way to make it yours.
Keep it simple when testing your products. Limit your products and variations as you start out. You can add to them later.
Welcome feedback from potential customers to understand the receptivity and interest in your product.
Cultivate relationships to get the word out for your product. This is best done in person particularly in the beginning.
RESOURCES MENTIONED
Fashion Institute of Technology (FIT)
CONTACT LINKS
Join Our FREE Gift Biz Breeze Facebook Community
Become a Member of Gift Biz Breeze
If you found value in this podcast, make sure to subscribe so you automatically get the next episode downloaded for your convenience. Also, if you'd like to do me a huge favor, please leave a review. That helps other creators like you find the show and build their businesses too.
Thank so much! Sue