251- How to Get onto Grocery Store Shelves with Roger Sudnick of Good Measures Foods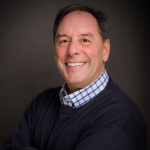 Roger is founder and CEO of Good Measures Foods, a company that is improving scratch baking for today's busy bakers.
Roger leveraged the experience he gained by leading triple digit growth for several start-up retail brands to launch Good Measures.
He has a passion for building businesses by developing winning strategies, overlaying a healthy dose of pragmatism and collaborating with excellent partners.
Roger enjoys biking, family and travel.
Personal mantra: "The measure with which you measure will in return be measured out to you."
BUSINESS BUILDING INSIGHTS
Have focus groups to confirm that your product resonates with your target market.
It's important to be receptive and ready to take action when the right opportunities appear.
The way to grow your business is through connections.
When building a team, define the responsibilities and divide them into roles. Then find the right people to fill those spots.
To get your products on a retailer's shelf, be courageous and talk directly with the store manager.
To effectively market your product, identify a need that your product solves and speak to that. When there are other similar products, speak to meaningful points of differentiation.
The beginning of any product lifecycle is trial and awareness. a great way to raise awareness of your brand is through product demonstrations.
CONTACT LINKS
Join Our FREE Gift Biz Breeze Facebook Community
Become a Member of Gift Biz Breeze
If you found value in this podcast, make sure to subscribe so you automatically get the next episode downloaded for your convenience. Also, if you'd like to do me a huge favor, please leave a review. That helps other creators like you find the show and build their businesses too.
Thank so much! Sue