048 – Brick & Mortar Retail Success Secrets with Vicki Adrian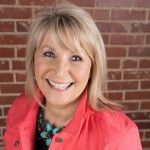 Vicki is the owner of Adrian's boutique, a retail store in Buhler, Kansas that has been in business for 33 years.
Their current product mix is 50% fashion, 25% gift and 25% kitchen and gourmet. But Vicki will tell you they are really in the People Business. Their number one priority is to earn customers' business through exceptional customer service, a well chosen product mix, and a team that is committed to excellence.
Additionally, Vicki is passionate about helping other entrepreneurs reach the next level in creating a successful business using relationship marketing, email marketing and social media marketing. This is all bundled under a business called Remarkable Retailer which focuses on B2B relationships through a podcast, weekday Periscopes and individual coaching.
Motivational Quote

Business Inspiration
Identifying the love of retail life [5:08]
The opening of Adrian's Boutique [5:59]
Business Building Insights
Advice when opening a brick and mortar shop [7:01]
Store setup [9:22]
Move It Monday – Displays and more [11:59]
Most valuable retail asset [14:14]
Current advertising plan [14:40]
Promo Idea #1 [18:03]
Promo Idea #2 [18:46]
In Store video creates sales [23:15]
The Remarkable Retailer
Industry specific Mastermind described in detail [27:22]
Remarkable Retailer [33:20]
Success Trait
Vicki is a life-long learner and loves to talk with people. As she says, getting in her 20,000 words a day!
Productivity/Lifestyle Tool
Flipagram -Create, share and discover fun photo-video stories set to music you love!
Wunderlist -The easiest way to get stuff done. Whether you're planning a holiday, sharing a shopping list with a partner or managing multiple work projects, Wunderlist is here to help you tick off all your personal and professional to-dos.
Valuable Book

The E-Myth by Michael Gerber
The Customer Rules by Lee Cockerell
Contact Links
B2B Video Training for Entrepreneurs
Email – vicki@remarkableretailer.com
Phone – 620-543-6488
If you found value in this podcast, make sure to subscribe and leave a review in Apple Podcasts or Google Podcasts. That helps us spread the word to more makers just like you. Thanks! Sue