How to Grow Your Product Business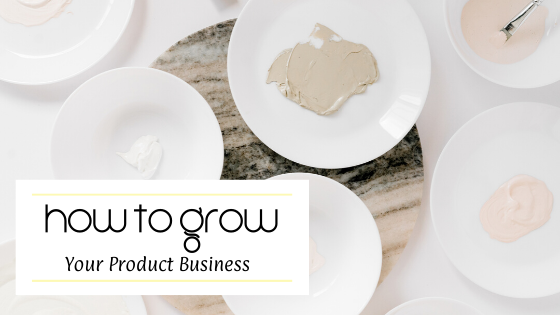 Learning to grow a product business can be a fulfilling and invigorating process that doesn't get enough attention or credit. On the other hand, it can also be incredibly frustrating as you attempt to get visibility and ultimately, the sales you need to thrive as a profitable business.
I've run several of my own successful product businesses over the years and have found that no two are ever alike. But here are ways to expand on your efforts that work for everyone.
Become Active in Your Local Community
Think about how you shop for new products, specifically those that are handmade. You want to touch them, look at the quality of the product, and learn more about how it's made. But what really solidifies your purchasing decision is when you hear the story of how the product came to be and get to know who actually made it.
You see, a successful handmade business is built less around the product and more around the artist. This is the secret to becoming the "go-to" source for what you make.
That's why showing up in person is so important. And it has advantages on both sides. You get to learn more about your customers and what they're looking for (hello, product innovation). And your customers get to know you as a real person – not a picture on a brochure or website. Plus when you interact and ask them questions, they feel seen and heard. This personal approach reinforces that they're supporting a local business and helping to grow a product business–a big care-about for buyers these days.
Here are two ways to do this. Sign up to have a booth at a local craft show, church bazaar or farmer's market. The cost is often nominal and it allows you to display your products without being tied down to a physical shop. Or start networking at local small business gatherings. Be sure to bring samples with you so people can hold, use or touch your products.
Find Your Place Online
To get exposure outside your local community, going online is the ticket. You can reach new customers far beyond your local community, without having to travel. Selling on Etsy, Amazon Handmade and even your own website are popular options, but there are pros and cons to each of them.
Etsy and Amazon Handmade?
With Etsy and Amazon Handmade, you're on a platform competing for attention just like all the other sellers. It can be difficult to land among the first search listings because of the sheer number of similar products and well established sellers.
Another factor is brand recognition. When selling on Etsy and Amazon Handmade, you need to have a strategy that helps a customer remember you and your business versus just remembering that they purchased on these large websites. Otherwise, you have a lot of one-time sales that continually need to be replaced. Attracting both new and repeat business is the model of product business growth.
If you sell on Etsy or Amazon Handmade, you won't be able to collect your customers' email addresses with the purchase. It's possible, however, to go about this with a little creativity. Include a card in your packaging asking people to join your list and offer some incentive to do so. Examples include a free guide, bounceback coupon or something else they'll see as valuable in exchange for their email. At the very least, make sure your labeling includes contact information or social media sites so they can get back in touch with you when they want to reorder.
On the positive side, Etsy and Amazon Handmade are well-known sites with millions of people searching for products every day.
Another Option
I always recommend having your own website even if you're also on other shopping platforms. It's important to have an online presence that you control and own. Yes, you'll have to set it up and have a strategy to drive people over to your site, but you can collect emails of your customers, retarget with Facebook ads, and retain more margin per sale. You're in full control. I find Shopify to be the perfect solution because it allows you to have a personalized feel while still being able to easily set up a shopping cart and other features you may want on your site.
Once you are known in your community and have an online presence, you may want to consider another growth strategy. Wholesale is the next logical step to help grow product businesses, but you'll want to take your time and do it right. It's worth researching how other business owners went wholesale and what the experts are looking for when sourcing wholesale products.
If you're in business to grow, it's important to continually look at ways to reach new customers and keep old customers coming back for more. If you're not doing this already, being visible in your local community and adding an online presence are the best places to start to grow your product business.

Print This Post


For more free business support consider listening to my podcast Gift Biz Unwrapped where I interview gifters-bakers-crafters-makers who share how they started and built their businesses. Want to talk one-on-one? I'm only an email away. I'd love to hear about you, your business and what you're working on right now that's helping create success in your life. Reach me at sue@suemonhait.com.