Let's Celebrate National Bakers Crafters Makers Day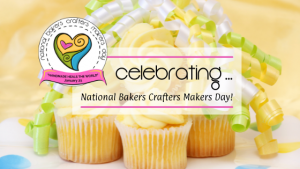 If you're a baker, crafter or maker, you know how much time … and heart … you put into your work. A lot!
The results of what you do are one-of-a-kind and enrich everyone's life by surrounding us with beauty and individuality. You chose this path as a small business, often missing out on holidays and personal time in order to provide happiness by filling the gift requests of others. You know this better than anyone, the more you sell, the more work you've made for yourself. It can be overwhelming, I know!
That's why there's now a day to honor YOU and all bakers, crafters and makers.
A Day for Bakers Crafters and Makers
National Bakers Crafters Makers Day is January 21, a day to celebrate the handmade creators of the world.
If you think about it, handmade products go back to the stone ages when people used animal hide to cover and warm themselves. Remember seeing in history books and at museums how they formed tools out of stone and wood? All this for survival.
As the centuries moved on, handmade products were the foundation forming the comfortable life we experience today. Small villages of crafters made garments for warmth, jewelry for adornment and tools of all kinds to make tasks easier.
They used creativity to make food taste good and look appetizing. They also produced oils and lotions for healing, pottery for cooking … and painting, woodworking, needlework, so many things. As our culture advanced, these activities have remained and continue to be expressions of individuality. Their creation brings us joy and is good for the soul.
So, we should celebrate this history and celebrate you too!
Thank Your Homemade Makers
National Bakers Crafters Makers Day is to thank handmade product makers for the personal sacrifice during the hectic holiday season and to offer recognition and support during a time of rejuvenation and growth for the future year. Handmade products provide an opportunity to add extra financial support to the family and is available to anyone with a creative flair. That makes for endless possibilities!
Here are some ways you can celebrate and lift up your fellow makers:
Call a friend who makes something handmade as a hobby and tell her how much you like their creations. A compliment goes a long way and warms both your hearts.
Think of friends who are handmade product creators when you have a gift to give. Purchasing something handmade means it's one of a kind and will be all the more special for its uniqueness.
Purchase items from small businesses that make their own products. There is a family behind the logo who relies on this income for part or all of their needs.
If you're a maker, support another maker through purchasing their product or just reaching out to tell them they've inspired you or motivated you to do something you've never thought of before.
If you're part of a group, like a quilting guild, do something special to highlight each other. Or start a special charity project offered on behalf of your organization to pay it forward.
If you're a teacher, dedicate an art session to learning and understanding the role handmade creations play in our history and lives today.
As a handmade maker, do something special for yourself. Maybe actually USE your product that you work so hard for others to enjoy.
For the Handmade Business
And what can you do for YOU? Join us in the Gift Biz Breeze Facebook group and become part of a community of handmade makers, including both handmade product business owners and some hobbyists or women thinking of starting a business around their craft. We're having a big party there on January 21 too, including a drawing for free handmade products, books and online courses.
There are other ways to celebrate too – outside of the group.
You can also grab free social media stickers, done for you post images and scripts and even get published in your local paper to highlight yourself and spread the word. All these resources are available for you to spread the word about the good you put out into the world and help get eyes on your business and even a cause you hold dear.
Let's drum up all the support and camaraderie possible. Post ways you're celebrating the day and when you do, tag me on Insta @giftbizunwrapped and use the hashtag #nationalbakerscraftersmakersday or #handmadehealstheworld. That way I can see and share your post too – a fabulous way to spread the word and pay it forward. Let's celebrate you and the bakers, crafters and makers in your life.

Print This Post