303 – Amazon Handmade vs Etsy – What Makes Amazon Different? with Rachel Johnson Greer of Think Cascadia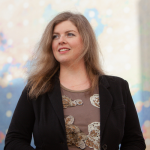 How do you choose which sales platform is best for you? What's the difference between Amazon Handmade vs Etsy? Today, we dive into what makes Amazon Handmade different from the other options for selling.
Rachel Johnson Greer is a global business strategist who specializes in helping entrepreneurs increase their internet product sales, curate their brand image online, and avoid catastrophic legal threats.
After getting her MBA in international business at Seattle University, she spent nearly a decade at Amazon working in product development.
Since then, Rachel has founded companies that reached both multi-six figure and multi-seven figure growth in under three years.
As a consultant, she supports clients in everything from international product expansion to 4x-ing their sales through online retailers.
Rachel has appeared on the Today Show, CNBC, Business Insider, The Wall Street Journal, and Bloomberg.
When she's not working with clients, she's scaring friends at parties with stories about the most problematic online products she's found in their homes.
BUSINESS BUILDING INSIGHTS
Don't doubt yourself. Show up and do it even if you don't feel like you're ready. You matter and you need to believe that you deserve to be there.
Amazon Handmade vs. Etsy
Amazon Handmade is sort of like an Etsy inside of Amazon.
For Amazon Handmade, you must be the designer, maker, or involved in the production of the product. You can't just be a reseller.
If your products are manufactured in a factory, it will not be considered handmade by Amazon.
You can't sell the same product on both sides of Amazon (regular seller vs handmade)  – you have to choose.
Amazon's search is easier for Handmade than Etsy search. And looking at comments is more straightforward on Amazon, as well.
Shoppers can search for your location, specific features about what you do, learn about you as the creator.
To sell a variety of things, Etsy is the place to be. On Amazon, if you get good reviews, you can sell a lot of the same thing (or with a few variations).
Don't restrict yourself to one or the other – if you're on Etsy, be on Amazon Handmade, too.
You must complete an application to become an Amazon Handmade seller. Recommend that you set yourself up with an LLC so your business is a separate entity from you. <– Pro tip! Tune in for more details on the application process.
Dos for selling on Amazon Handmade:
Do think of a product that has a market and how you can get reviews to rank and have people see your product. Reviews are critical on Amazon. <–Listen to the full conversation for more on this.
Do test multiple items to see which one will succeed – then focus single-mindedly on that one.
Do advertise on Amazon to get in front of people and keep your product moving.
Do use words in your title that people use to search for your item.
Do add inserts in the shipment to share other things that you sell.
Do make sure your flagship product is always in stock because if you go out of stock, your ranking will fall. <– Pro Tip!
Do use Amazon lives to promote your products and build a following.
Do offer free informational downloads on your website that support their purchase (be careful not to incentivize reviews) so you can collect email addresses.
Do include safety warnings in your packages so you are covered. Yes – even though it's handmade. <– Pro tip! Tune in for the full convo on this.
Don'ts for selling on Amazon Handmade:
Don't try to sell consumables on Amazon Handmade. You need a regular seller account for that (topicals are okay).
Don't get too cute with product titles. Search terms are important.
Don't direct customers away from Amazon to buy (like to your website).
Don't incentivize reviews (i.e., offer a freebie in exchange for a review). You can get banned for that.
–> Listen to the full convo for so much more about selling on Amazon Handmade and growing your brand.
Resources Mentioned
Rachel's Contact Links
Website | Facebook | Instagram | Twitter | LinkedIn | YouTube
---
Join Our FREE Gift Biz Breeze Facebook Community
Become a Member of Gift Biz Breeze
If you found value in this podcast, make sure to subscribe so you automatically get the next episode downloaded for your convenience. Click on your preferred platform below to get started.
Also, if you'd like to do me a huge favor – please leave a review. It helps other creators like you find the show and build their businesses too. You can do so right here: Rate This Podcast
Apple Podcasts | Google Podcasts | Spotify
Thank you so much! Sue
Know someone who needs to hear this episode?
Click a button below to share it!