063 – Selling Handmade on Etsy with Christine Hoffer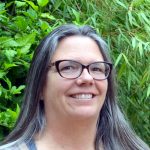 Christine been an artist her entire working life and is influenced by natural and ancient symbols.
She says, "I feel they represent all that is missing in modern life: our connection to nature, our bodies, our families, and the cycle of the seasons."
Christine has been creating and selling beads and buttons since the mid-1990's. She also paints and makes mosaics along with other arts and crafts.
Working as an artist at home has allowed her to homeschool her 5 children (now mostly grown). That is another big part of her life!
Motivational Quote
Business Inspiration
Why Christine likes ceramics [6:04]
The start of Bead Freaky [6:23]
Her hobby turned into a business [8:42]
All About Etsy
Setting up shop on Etsy [9:22]
Company and product descriptions [10:32] and [12:48]
Advertising on Etsy [15:57]
Christine's key to sales [18:26]
Complimenting Etsy is her Instagram strategy for biz growth [21:32]
Success Trait
Christine attributes her success to knowing "her center." That means where she is trying to go in life and business and continually redirecting to stay on course. [22:42]
Productivity/Lifestyle Tool
Daily goals are defined and checked off the list one by one right as the day gets started. Christine also has long term goals that she works towards each day. [23:28]
Book
Art, Inc.: The Essential Guide for Building Your Career as an Artist by Lisa Congdon and Meg Mateo Iiasco
Hundreds and Thousands: The Journals of Emily Carr

Contact Links
If you found value in this podcast, make sure to subscribe and leave a review in Apple Podcasts or Google Podcasts. That helps us spread the word to more makers just like you. Thanks! Sue