193 – Not Everyone Deserves Your Homemade Efforts! with Michelle Gowan of Cookie Nip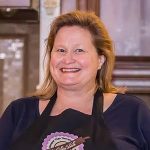 Dr. Michelle Gowan is a retired educator who is using all her time not teaching school to teach people to bake and decorate cookies.
In her first month of retirement, she founded The Cookie School which is a mobile, home party/class where a group of girlfriends gather in a kitchen for six hours and learn to bake and decorate cookies.
After they "graduate," they have homework to complete (3 recipes of cookies) and then they qualify for an advanced class (graduate school).
Cookie Nip flavoring was born out of a desire to create a rich signature flavor profile for use in The Cookie School recipes but it has been embraced by bakers of cookies, cakes and treats as well as a delicious flavor additive to coffee and a replacement for vanilla in any sweet or savory recipe.
Michelle now has trained 70 Cookie School instructors who help with the demand of teaching classes. Dr. Gowan continues to work at a charter school in teacher support as well as an adjunct professor of Education at Mercer University.
Business Building Insights
Everything that I give as a gift has a part of me in it. Recognize the value of putting part of yourself into the creation of your products.
Listen to the feedback that you get and modify accordingly.
When you're making something that doesn't already exist, you don't have anything to compare yourself to. The road is clear for your creativity.
You can't do it all. Seek help from advisors and listen to them.
When at trade shows, the connections made with other vendors are worth just as much, sometimes more, than the sales made.
Give yourself permission to stand back and let opportunities find you.
With anything worth doing, there is risk.
Contact Links
Gift Biz Resources
If you found value in this podcast, make sure to subscribe and leave a review in Apple Podcasts or Google Podcasts. That helps us spread the word to more makers just like you.
Thanks! Sue