187 – Finding Courage Through Art with Frances Castro of Francesita by Frances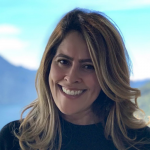 Frances is in the process of starting her own business, Francesita by Frances, with the dream of making a living income with her art.
Frances works on canvas and also upcyles furniture. Actually, she'll tackle just about anything that will take paint.
Bright colors and whimsical themes are fundamental to her artwork as she has been influenced by having lived in Central America for several decades.
Frances' personal goal is to transmit sunshine through each piece she sells. Her journey to this point has been one of action, decisions and believing in herself.
I'm thrilled to catch Frances right at this point in the development of her new business. As you'll hear, her background and experience are putting her right in line for success.
Business Building Insights
When faced with adversity, you have the opportunity to transform into something new.
Art is a mindful practice. It keeps you in the present and focused on creating.
Research how to make your business visible and begin to thrive.
Focus on what your customer is looking for.
Don't stop. Don't give up on your dreams.
People who've found success usually are people who've also had a lot of failures.
Be determined and resourceful. Also call upon your energy and attitude.
Contact Links
Gift Biz Resources
Learn to make money doing what you love. You're a gifter, baker, crafter, or maker … and you're stuck in a day job. You'd love to turn your one-of-a-kind jewelry or heavenly chocolate into a profitable business, but you have no idea where to start. How the heck do people turn their creative business dreams into reality?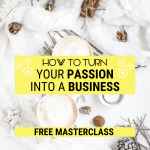 Learn the ONE thing that will take you from 'hobbyist' to 'pro' in no time
Discover the 5 crucial steps to give your business a solid foundation and set you up for massive growth
Find out how to be 2 steps ahead in your business so that your customer starts chasing you!
It's time to get out of your rut and dive into your future headfirst! Stop wondering about your next steps — instead, pour yourself something delicious, sit down, and let me show you how to turn your hobby into a money-making business.
If you found value in this podcast, make sure to subscribe and leave a review in Apple Podcasts or Google Podcasts. That helps us spread the word to more makers just like you.
Thanks! Sue