299 – How to Get Attention Online with Lauren Schwartz of The Loft 325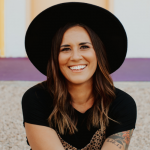 Whether you are just starting your business or looking to grow, today's show is perfect for you! Lauren Schwartz shares a ton of pro tips and tricks on how to get attention online using creative advertising – and more!
Lauren describes her business as "a small design studio with a knack for simplicity." With over 15 years of experience, she serves as a creative director and strategist for e-commerce brands.
Her profitable ad campaigns have been used by top brands on Facebook, Instagram, Snapchat, and Google.
Lauren's mission is to help brands grow by affecting performance throughout a customer's journey, from prospect acquisition all the way through to post-purchase experiences.
BUSINESS BUILDING INSIGHTS
Learn creatively what works for you and the passion and hustle will come along with it.
It's about trial and error.
Figure out what works for you AND the people you're selling to.
Showing people why they need your product in their lives is a big part of selling online.
There are so many places people can purchase online – people don't understand why they should choose to buy from small business.
How To Get Attention Online For Your eCommerce Business
To build an audience for small business in eCommerce:

You have to get yourself out there and engage with clients.
FB Lives, Instagram, Stories, and Reels are a great way to put a face on your brand, show off products, and engage people with what you're selling.
Share your story to engage them in your product and move through the customer journey toward buying.
Engage with people commenting on posts of businesses with a similar audience to yours (competitors or related businesses).

Use advertising to get attention online:

FYI – Boosting posts on FB doesn't really do anything for your engagement. <– Pro tip! 
Facebook advertising doesn't have to be expensive. You can start small and grow from there.
Be willing to spend a little money to create visibility. Start with $300 per month (or whatever you can afford) to spend on advertising and track what that gets you. Adjust and try new things to see what works and what doesn't.
Use the data you learn from your advertising to create a strategy.
Paid ads can draw in people who are interested in what you're making.  You can create custom audiences and interest segments on Facebook and Instagram to engage those people to click and purchase from you. <– Listen in for much more detail on this!
Start with a prospecting ad to get people to your website. And there, make sure your website has the information to get people to want to purchase.
Then you can use retargeting ads to get more purchases.
If you have an email list, add that to FB to create a targeted interest segment for ads.

Ad creatives that work: <–Tune in for more details on this!

Design for mobile-first and sound off and always include captions.
Show the product within the first 3 seconds.
Never underestimate a clean photo of your product on white. A simple product shot from your website with a white background and a strong headline can be super valuable.
Test different designs (styled vs lifestyle vs plain white background) and learn from trial and error.
Make your creatives stand out from all the noise. The image is what initially catches attention. Your goal is to spark interest to stop and click to learn more about the product.
Pay attention to Facebook suggestions. Their robot knows what will work for you. It's unlikely you can outsmart it.

Listen to the full conversation for lots more on how to get attention online!
Resources Mentioned
Lauren's Contact Links
Website | Facebook | Instagram | Twitter | LinkedIn
---
Join Our FREE Gift Biz Breeze Facebook Community
Become a Member of Gift Biz Breeze
If you found value in this podcast, make sure to subscribe so you automatically get the next episode downloaded for your convenience. Click on your preferred platform below to get started.
Also, if you'd like to do me a huge favor – please leave a review. It helps other creators like you find the show and build their businesses too. You can do so right here: Rate This Podcast
Apple Podcasts | Google Podcasts | Spotify
Thank you so much! Sue
Know someone who needs to hear this episode?
Click a button below to share it!