065 – Vintage X3 on Etsy with Jennifer Beaton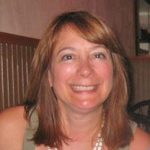 Jen runs three online vintage shops on Etsy. The first shop opened in 2008 with a nice mix of vintage. Several months later she niched down and started a vintage milk glass shop, and soon after that, a vintage china shop.
Jen's passion for objects with character and history started when she was little and would visit my Great Aunt Esther. She had a beautiful 250+ year old homestead in Rye, New Hampshire. It was a gorgeous home filled with many antiques.
Jen is a proud member of the EtsyVintageTeam and the VestiesTeam. She's also a proud mom of three, Katherine, Mark and Lindsey. AND Lindsey just had a new baby, Oliver whom she adores!
You can visit all of Jen's vintage shops on Etsy. The are JensCloset, TheChinaGirl and MyMilkGlassShop. In our talk, she shares how she set up her shops, sources and prices her items, and how she attracts attention to her online shops.
Motivational Quote

Selling on Etsy
Why Jen started her first vintage shop on Etsy [3:04]
Conversation about how to set up a shop on Etsy and the costs [3:57]
The best way to list products [6:07] and [14:55]
Why Jen has multiple vintage shops instead of just one [11:47]
How Jen sources her vintage products [16:34]
How to determine the selling price [17:40]
Social Media plays a huge role for bringing in sales [20:10]
Success Trait
Jen believes it's all about your attitude when it comes to success. [24:31]
Productivity/Lifestyle Tool
Journaling is Jen's way of staying grounded. [25:09]
Valuable Book

Rachel Ashwell's Shabby Chic Treasure Hunting and Decorating Guide by Rachel Ashwell
The Vintage Table: Personal Treasures and Standout Settings by Jacqueline deMontravel
The Serene Home: Decorating Secrets & Inspirations Hardcover by Eileen Cannon Paulin
Contact Links
If you found value in this podcast, make sure to subscribe and leave a review in Apple Podcasts or Google Podcasts. That helps us spread the word to more makers just like you. Thanks! Sue