066 – Meet the Kosher Willy Wonka David Levine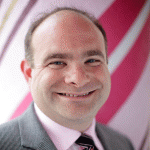 David Levine and his wife, Melissa, are the proud and smiling owners of Illinois Nut & Candy, Home of Fantasia Confections. It's been eleven years since they purchased the business. The couple can take credit for sweet success thanks to conscious, thorough and even ingenious branding efforts.
David realized that to distinguish his company from other candy companies he needed branding that not only differentiated his candy business from his competition, but differentiated his clients from their competition too.
David began his plan with a memorable ending: he closed every conversation with his now famous, "Have a sweet day!" And when people asked how the business was doing, it was (and remains) "sweet!"
Eventually, David earned a name change and another claim to fame…Fox Business dubbed him the "Kosher Willy Wonka." This was all the inspiration he needed to invest in a complete Willy Wonka Costume. He now shows up at select networking events adorned in the purple top coat with all the trimmings.
He is currently working on his first book on the subject of branding and has a blog called Life of the Candy Man where he discusses the ups and downs, surprises and utterly nutty delights of life in a candy store.
Motivational Quote

Business Inspiration
Buying Illinois Nut and Candy [7:55]
Candle Flickering Moments
A social media challenge [29:45]
Business Building Insight
The truth about owning your own business [4:22]
Purchasing a business versus starting your own [8:33]
Reviewing and adjusting the product line to increase sales [14:28]
How to identify and create your brand [17:38]
Finding and working with your staff [19:04]
Networking karma [22:41]
Changes in Illinois Nut and Candy that created more sales [26:59]
Flipping between "working on" and "working in" the business throughout the year [37:18]
Success Trait
David brings everything back to hard work. He wants to win on his terms … which means not only having Illinois Nut and Candy be a thriving business, but helping his customers realize success too.
Productivity/Lifestyle Tool
David actively accesses other people's opinions and advice. He finds this is one of his greatest resources. He realizes he doesn't need to know it all. But he needs to know people who have experiences and information he can tap into.
Valuable Book
The E-Myth Revisited by Michael Gerber

Contact Links
Illinois Nut and Candy, 3745 W. Dempster St., Chicago, IL 60076, 847-677-5777
If you found value in this podcast, make sure to subscribe and leave a review in Apple Podcasts or Google Podcasts. That helps us spread the word to more makers just like you. Thanks! Sue