067 – Inside The Cocoa Cabana with Ronda Priola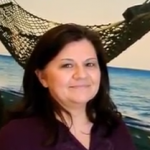 Ronda is the owner of The Cocoa Cabana Gourmet Chocolates.She makes all her own chocolates in the store, including toffee, caramel, creams, marshmallow, peanut butter cups, pudgies (which are turtles) and one of their biggest sellers – chocolate covered potato chips.
The Cocoa Cabana is in its tenth year of business, 9 in their current location.
Ronda is spreading the word that chocolate is not bad for you. It's just gotten a bad rap lately. Chocolate can actually be good for you and has health benefits as long as you eat good quality chocolate.
Business Inspiration
A childhood love of baking [4:50]
Ronda's husband suggests she go from baking for friends to baking for business [7:22]
Candle Flickering Moments
The difficult hunt for a location with a commercial kitchen and her creative solution in year one [16:03]
Ronda's continual struggle with balancing her day [22:22]
Business Building Insight
Linking up for a Russell Stover apprenticeship [8:02]
Searching for a business name [12:04]
The importance of a retail location [19:05]
The value in doing local events [26:45]
Ronda's approach to getting her customers [28:14]
A successful and slightly different email approach [28:56]
Success Trait
Ronda loves people and enjoys talking on a one-on-one basis. Her husband lovingly defines them as "The Chocolate Bartenders."
Productivity/Lifestyle Tool
Recognizing the need for a supporter in her business, Ronda mentions several times throughout our talk how much her husband contributes to the success of the business.
Valuable Book
So Long Insecurity: You've Been a Bad Friend to Us by Beth Moore

Contact Links
The Cocoa Cabana, 651 S. 8th St., West Dundee, IL 847-851-8775
If you found value in this podcast, make sure to subscribe and leave a review in Apple Podcasts or Google Podcasts. That helps us spread the word to more makers just like you. Thanks! Sue