168 – Inventory Woes and Resolution with Layne Booth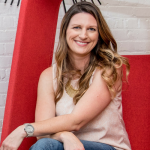 Layne's business, The Project Booth, focuses on the inventory and ordering mayhem that becomes a struggle for many product-based businesses.
Layne grew up as a math nerd, graduated college with two engineering degrees and went straight into manufacturing. She spent over a decade in the supply chain world. But as her family started to grow, she was ready for more flexibility.
She started The Project Booth to help businesses confidently plan their sales and inventory and maximize their bottom line. It results in the owner's clarity, confidence, and of course, cash flow!
Layne makes the numbers in your business "show you the money".
When not nerding out with numbers, you can find Layne enjoying time with her family at the playground or catching the latest superhero movie with her husband.
Business Building Insights
The goal is to balance inventory quantities to realize and maximize profit targets.
Reducing options such as colors or fragrances helps keep inventory under control.
If you are just starting to attend craft/trade shows, your first product quantities will be an educated guess. Then track results and adjust as you go forward.
For perishable goods the key is to have multiple outlets of distribution so you don't have to throw away expired product.
When analyzing your numbers, compare your results only against yourself – not others.
Resist overstocking . That's money stuck in on the shelf versus being used elsewhere.
Managing cash flow will make or break your business.
Resources Mentioned
Contact Links
Gift Biz Resources
If you found value in this podcast, make sure to subscribe and leave a review in Apple Podcasts or Google Podcasts. That helps us spread the word to more makers just like you.
Thanks! Sue