6 Things to Consider When Creating Your Logo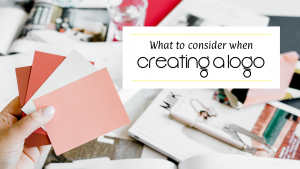 Starting a business is a lot of work. You have to think about a domain name, social media accounts and, eventually, creating a logo. (Not to mention creating the product and actually making sales—but that's a story for another blog post.)
Too many business owners get hung up on their logo, thinking they can't get started or make their first sale until they have a beautiful, professional (even expensive) logo created. That's just not the case.
It's okay to get started in business before your logo is ready; in fact, I encourage it. At first, you want to test the market and see customer responses. Through that process, your thinking for a logo may change.
But eventually you'll want a more professional way to represent your business visually.
Enter the logo.
A sidenote here. It's important to understand that a logo is just one element of many that make up an overall brand. Your brand includes everything a customer sees and experiences.
This includes your logo, the look of your social media platforms, your store atmosphere (retail), your website (ecommerce), what you post online, how easy your website is to navigate, the way your phone is answered, how your associates interact with customers … literally everything.
These things form an impression about your company.
To build trust, all of these elements must give the same vibe. That way people know what to expect from your business and they will feel comfortable and confident when dealing with you.
Here are six guidelines that will help you in creating a logo that will serve your business for years to come.
Define the "Feel" of Your Brand
When a customer makes contact with you for the first time, they start to develop a "feel" for your business. You can define and control this—through the other branding points listed above, and visually from your logo.
What two or three adjectives will describe your new company? Are you crisp and professional? Or are you friendly and casual? Write these down somewhere. The logo that you create should be aligned with these descriptors.
As you move forward with your business, filter everything you do against these adjectives so you remain consistent with the image you present to your customers.
3 Logo Components
Overall there are three possible components to a logo.
Business Name – The company name in your logo can take several forms. You can portray it only by initials, you can include your full name written out in a single font style, or you can include a creative combination of font styles.
Image – Not all logos have to have an image, but if the mood strikes, go for it. Sometimes just the creative use of words and font styles is all you need. Other times you can use an image with the business name, depending on where you're using the logo.
If you decide to add an image to your logo, please do not use stock clipart or photography. You aren't fooling anyone and it comes across cheap and unprofessional. If you're thinking of going that route, it's better not to have an image at all.
Tagline – Taglines are often used to clarify what a business does, and it's completely optional to use yours in your logo. A catchy phrase can also help customers remember a business. If you decide to add a tagline, make it short and catchy. Think Nike (Just Do It) or M&M's (melts in your mouth, not in your hands).
Visual Presentation
Colors – Select colors that reflect the feel of your business, as we discussed earlier. You also want to consider colors that are attractive to your customer base and resonate with you. A quick google search will bring up information on colors to guide you.
Font Style – Go to a site like dafont.com to browse fonts and "try it out" with the fonts you find. This is a great way to see it before you make your selection. And remember that you can mix fonts, using a different font for different words in your business name, to create something unique to you.
Size/Angle – Play with different font sizes and angles for the various words in your company name. Great places to go for inspiration are Instagram and Pinterest. Search #logoideas or variations thereof to see thousands of ideas.
How to Get Your Logo Created
As a gifter, baker, crafter or maker, you may assume the best way to get your logo made is to do it yourself. You're creative after all! But there are other methods to creating a logo for your business too.
Here are three options for completing your logo. If you elect to hire someone for the job, make sure to give them as much information as possible including the decisions you've already made for images, font styles, colors, etc.
DIY – If you are efficient with a graphics program like Photoshop or Illustrator, you can make a logo yourself. You can even use Canva to create logos since it's continually improving the tools available for graphics creation.
Online Designers – Check out a resource like fiverr.com or 99Designs.com and have one done for you. These are low-cost options to hiring a contractor to help you, low enough to hire a few designers so you can pick and choose from the options. Typically you'll get several options to choose from and then the opportunity to revise it once or twice.
Local Graphic Designer – See if there is someone at the high school or within one of your networking groups who will work with you on a single project basis. This may be the most expensive route, but if you're ready to really uplevel the look of your business, this might be the best option for you.
Decide and Move On
Whatever you do, don't let this be a stopping point for moving forward in development of your business. Define a timeframe in which to get this project done. Then decide on an option that works and move on. Nothing in your business ever has to be set in stone; your logo doesn't have to be forever. Sure, you want your logo to be recognizable by your customers. But there's nothing wrong with making a few tweaks and changes over time.
Design Cautions
As you're finalizing your logo design, keep in mind a few key things to ensure you have exactly what you need.
Simple and Clean – Don't get too detailed with your logo. It should be something that will look good and remain legible in all sizes and places. Think about websites, business cards, posters, product labels, a shop window, etc.
Multiple File Versions – You will want different types of files for different applications. Whether you do it yourself or have a logo professionally done, retain files with various extensions such as .ai or .psd, .jpg, .gif, .eps. Different file types are ideal for different uses. If you work with a graphic artist, be sure to ask about this.
If you follow these guidelines, your result will be a logo that can serve you well. Once you're up and running, your logo can be updated and revised as your business grows.
Already have a logo? Grab my logo check-up here and see if you're on the right track.