414 – A New Look at User Generated Content with Lauren Schwartz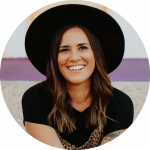 Do you know what user-generated content is and how can it help you in your handmade business?
User-generated content deserves more attention because understanding and utilizing this content creation strategy can help you more easily create customer communications and add depth and variety to the messages you send out.
The beauty is, user-generated content can be used in all touchpoints from social media posts, to email content and even what you include on your website.
To be honest, I entered into this discussion with the idea that we were talking about one thing, and Lauren expanded the topic by defining User Generated Content in a much broader way. So, you're getting both what I expected to cover and more!
Lauren is a thought leader in producing profitable creative strategies for eCommerce brands and a design professional with over 15 years of experience within the digital space.
Lauren's passion lies in generating top-performing ad creatives. She's personally led the creative strategy for top brands such as Love Wellness, Needed, Kate Farms, and AutoBrush.
When not working with clients, Lauren teaches others her profitable creative methodology, focusing on Direct to Consumer Advertising, Facebook, Instagram, and TikTok.
She's also spread her knowledge as an AdWorld Conference speaker for the last 3 years.
Ideas For User-Generated Content
In this episode, you'll hear …
What Auser-generated content is all about.
The easiest way to connect with your audience.
How to make your videos sound natural instead of scripted.
Tips for working with content creators.
The value of planning and strategy vs posting on the fly.
Which platform to focus on.
How your content strategy can contribute to business growth.
And lots more!
Listen to this fascinating conversation to hear all the ideas for user-generated content that can help build your handmade product business!
Resources Mentioned
Lauren's Contact Links
Website | Facebook | Instagram | Linkedin
---
Join Our FREE Gift Biz Breeze Facebook Community
Become a Member of Gift Biz Breeze
If you found value in this podcast, make sure to subscribe so you automatically get the next episode downloaded for your convenience. Click on your preferred platform below to get started.
Also, if you'd like to do me a huge favor – please leave a review. It helps other creators like you find the show and build their businesses too. You can do so right here: Rate This Podcast
Apple Podcasts | Google Podcasts | Spotify
Thank you so much! Sue
Know someone who needs to hear this episode?
Click a button below to share it!