Tips & Talk 106 – A Different Way to Look at Your Competition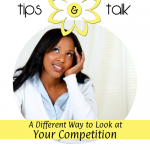 Competition is not something you need to fear. There are actually advantages to being in a well-known and established industry. I explain why and how to look at your competition differently.
The emotion and feeling of discomfort comes up when you don't have a plan to tackle competitive situations. Here's why competition is a good thing and what you can do to be the star when in the midst of all the others.
Resources Mentioned in this Episode
Inspired! Daily Planner
Start with Confidence
Get Free Coaching thru a Gift Biz Boost!
A Gift Biz Boost is a free one-on-one strategy session discussion a part of your business you're trying to grow. Maybe it's the first steps to getting started, or how to attract more sales, whatever your current focus is. You'll leave with actionable steps to "boost" you forward.
Join our community of handmade product makers
Gift Biz Breeze is an active and inspiring group of creators at all levels of business development. Ask questions, see what others are working on, learn new things, it's all there and we're waiting for you to join us!
Finally, would you please leave a review? Thanks!
It helps other makers like you find the show and build their businesses too. You can do so right here: Rate This Podcast