413 – Email Marketing Strategies to Increase Sales with Laura and Adam of Pink Leopard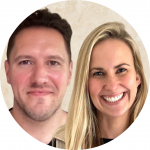 By now, you've probably noticed the uptick in people talking about the importance of email marketing.
That's because (dare I say it?) email is even more important than social media! In fact, email is your key to predictable and growing monthly sales.
It's one thing to understand the importance of email in theory but another to know how to use it to your advantage in your business. Thankfully, today's guests are going to shed light on this with concrete direction on the "what" and "how."
Plus – my huge pet peeve – Laura and Adam answer the question about whether you should sell in each and every email you send. I'll tell you the answer right now … No … and Yes!
Laura and Adam founded and have co-directed Pink Leopard, an eCommerce growth acceleration agency, for the last 8 years. They're driven and passionate about getting under the skin of eCommerce businesses, helping them grow to 7 & 8 figures.
Laura also has her own eCommerce store. She understands every aspect of running a successful online store since she's been in the trenches with her clients.
Laura and Adam focus on sharing their knowledge on how to grow via paid ads and email marketing.
As a thought leader in creating advertising strategies for eCommerce brands, Adam takes time to understand the individual requirements and direction of each business to be able to make custom recommendations for their clients.
Together they are passionate about building a people-focused agency that attracts, retains, and cultivates the best talent to ensure client satisfaction.
Email Marketing Strategies  To Increase Sales
In this episode, you'll learn …
How to grow your email list.
4 communication flows you should have in place.
Where to find ideas for email content.
What to do after your email is sent.
How to map out a 6 or 12-month email calendar.
The key to client retention.
How to get people to sign up for your list.
What to do before every campaign.
And yes – even more.
Listen to this full conversation to get email marketing strategies that increase sales so you can get started right away!
 Resources Mentioned
Laura & Adam's Contact Links
Website | Facebook | Instagram | Linkedin (Laura) |Linkedin (Adam)
---
Join Our FREE Gift Biz Breeze Facebook Community
Become a Member of Gift Biz Breeze
If you found value in this podcast, make sure to subscribe so you automatically get the next episode downloaded for your convenience. Click on your preferred platform below to get started.
Also, if you'd like to do me a huge favor – please leave a review. It helps other creators like you find the show and build their businesses too. You can do so right here: Rate This Podcast
Apple Podcasts | Google Podcasts | Spotify
Thank you so much! Sue
Know someone who needs to hear this episode?
Click a button below to share it!