275 – Selling on Amazon Handmade with Dana Midkiff of Pink Door Wreaths
S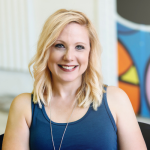 even years ago, Dana started her handmade journey. Today, she has built a brand, developed numerous product lines and mastered handmade operations.
Through the years, she has scaled her business so that she could quit her corporate job. She's hired almost 20 part time employees and soared above 7-figures a year on Amazon.
Dana has researched, tested, analyzed and hustled to find what works and now shares her learning with all of her handmade clients.
This is Part 2 of my 6-Part Series covering your top sales platform options. 
Catch up on this series here:
Part 2: Selling on Amazon Handmade

 <– YOU ARE HERE
BUSINESS BUILDING INSIGHTS
Don't fall into a saturation mentality. There is space for you even in a crowded field. The key is to provide great photos, product descriptions, and going behind the numbers to see what's working.
Start thinking with a business mentality over handmade mentality.
Showing up on multiple platforms increases your visibility and builds traction for continual sales.
No matter where you currently are, the end goal should always be to have a website that you own. Don't rely solely on ecommerce running through a third party.
Think of words that your customers will type into the search bar to find your product. These might not be the same words you'd use. Get in the buyers mind.
You have to be consistent in all your efforts to reach your goals.
CONTACT LINKS
Join Our FREE Gift Biz Breeze Facebook Community
Become a Member of Gift Biz Breeze
If you found value in this podcast, make sure to subscribe so you automatically get the next episode downloaded for your convenience. Also, if you'd like to do me a huge favor, please leave a review. That helps other creators like you find the show and build their businesses too. You can do so right here: Rate This Podcast
Thank so much! Sue