276 – Build the Perfect Shopify Website with Elle McCann of Curious Themes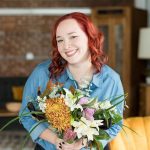 Elle McCann is the owner and designer of Curious Themes web development studio outside of Nashville, TN.
She creates online classes that cover how to launch and grow Shopify stores quickly.
Elle's been listed as a Shopify Expert for over seven years and in that time has created more than 150 Shopify stores.
She's dedicated to helping entrepreneurs grow their online business without the overwhelm.
One way she does this is through weekly videos on her YouTube channel that currently has over 27,000 subscribers and is growing fast!
This episode is Part 3 of my 6-Part Series covering your top sales platform options.
Catch up on this series here:
BUSINESS BUILDING INSIGHTS
Tips For An Amazing Shopify Store
Resources Mentioned:
CONTACT LINKS
Website | Facebook | Pinterest | Youtube
---
Join Our FREE Gift Biz Breeze Facebook Community
Become a Member of Gift Biz Breeze
Never Miss An Episode
If you found value in this podcast, make sure to subscribe so you automatically get the next episode downloaded for your convenience. Click on your preferred platform below to subscribe!
Also, if you'd like to do me a huge favor, please leave a review. That helps other creators like you find the show and build their businesses too. You can do so right here: Rate This Podcast
Thanks so much! Sue