269 – SEO: The Answer to Attracting Sales Online with Meg Casebolt of Love at First Search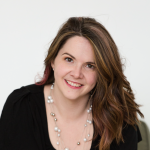 Meg Casebolt has been helping female business owners like you create beautiful, search-friendly websites and strategic content for the past 6 years.
She's your no-B.S. bestie who makes it super easy for your dream customers to find – and adore! – you online, resulting in effortless web traffic, consistent customers, soaring profit and SO much more free time (and sanity)!
She started her career with a decade working in communications for nonprofits big and small. She thought she would always be working for nonprofits, maybe even running one someday. But as happens with so many of us, she  got pregnant, looked at the numbers, and realized that it didn't make financial sense to spend half her take-home pay on daycare.
So she left her job, started a successful design studio and spent the next few years immersed in the world of branding and web design. And while her clients and their audiences loved their new websites, they weren't getting found for their amazing work.
And that's when she started exploring SEO — because her clients had these incredible messages to spread and she wanted to help them get seen by new audiences.
BUSINESS BUILDING INSIGHTS
The more you get to know the people you serve, the more you can position your website to meet their needs.
If you're building an e-commerce business, you must focus on discovering and creating things people want to buy.
The more you learn, the more you can evolve and the better you'll be able to serve your audience.
SEO is important because when you do it right, it will consistently bring new people into your world.
Find ways to make your website the best answer to the questions people are asking.
By positioning yourself as the answer, you get the clicks.
Keep your site aligned with what people are searching for.
Be clear with your product names and descriptions to highlight the benefits they provide.
Put keywords people are looking for into the places that Google is looking for them.
Always have a call to action on your site.
RESOURCES MENTIONED
CONTACT LINKS
Join Our FREE Gift Biz Breeze Facebook Community
Become a Member of Gift Biz Breeze
If you found value in this podcast, make sure to subscribe so you automatically get the next episode downloaded for your convenience. Also, if you'd like to do me a huge favor, please leave a review. That helps other creators like you find the show and build their businesses too. You can do so right here: Rate This Podcast
Thank so much! Sue