270 – Increase Sales by Showing What Makes You YOU! with Nikole Marie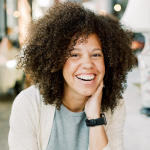 Nikole Marie is a film-inspired wedding and personal brand photographer who followed a very winding path to work that truly fulfills her.
She serves couples filled with love and joy by creating images that capture the connection and beauty of their relationships. It's then documented for them to share for a lifetime.
Nikole also creates branded imagery for female entrepreneurs looking to grow their brand strategically by sharing the story of their business through photos.
BUSINESS BUILDING INSIGHTS
Educate yourself about personal branding and the power it can have on your business. It's what sets you apart from all other businesses in your industry.
The YOU of the business will help you stand out.
Putting a face to your business gives people a personal connection that helps them want to support you.
Work with a photographer to get your stories captured.
Six questions before your next photoshoot:

How are you going to use the photos?
Are there any visual holes in your business?
What colors express your brand the best?
What does your ideal client love about your brand?
What do I share most often on social media?
What do you need to share more often on social media?
CONTACT LINKS
Join Our FREE Gift Biz Breeze Facebook Community
Become a Member of Gift Biz Breeze
If you found value in this podcast, make sure to subscribe so you automatically get the next episode downloaded for your convenience. Also, if you'd like to do me a huge favor, please leave a review. That helps other creators like you find the show and build their businesses too. You can do so right here: Rate This Podcast
Thank so much! Sue