201 – Why Wait? Put Yourself in the Spotlight with Amanda Berlin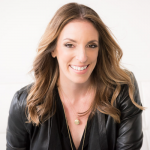 After more than a decade in the New York City public relations world, Amanda Berlin now uses her pitch powers for good. She helps entrepreneurs step into their presence, create a story that inspires others, and spread their message in the media.
Amanda has created a library of template guides and trainings. She works one on one with clients to assist them with strategic story-telling and media relations. Her knowledge and skills are based on 12 years of experience guiding strategy for major brands in the corporate world.
Amanda and her clients have been featured in all types of media from Business Insider to Entrepreneur on Fire and from WNYW Fox 5 to Bustle.com.
She's the host of The Empowered Publicity Podcast. She loves arming soul-powered business owners with the ideas and the skillset they need to go from hidden industry gem to recognizable trusted expert.
Business Building Insights
Cultivate the ability to listen to your gut instincts and trust yourself.
By creating a story around your product, you'll provide the media a reason to share your message to their audience.
When you are featured in traditional media, trust and credibility are established.
Traditional media allows you to leverage audiences that other people have cultivated so you can bust out from that word of mouth bubble.
Develop a list where you want to be featured. Look at your local newspapers, radio and television stations and also your own media habits.
The stakes are really very low when you pitch the media. It's definitely worth the effort.
Contact Links
Gift Biz Resources
Get on the list

to bee the first to know about Sue's new Inspired! Planner

If you found value in this podcast, make sure to subscribe and leave a review in Apple Podcasts or Google Podcasts. That helps us spread the word to more makers just like you.
Thanks! Sue