200 – You Deserve to Be Heard with Carol Cox of Speaking Your Brand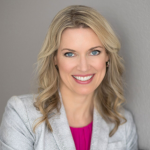 Carol Cox is the founder of Speaking Your Brand, which helps high-performing, purpose-driven women entrepreneurs and professionals create their signature talks (keynote, TEDx, business presentation) to grow their business and become recognized as influencers in their fields.
Carol is host of the Speaking Your Brand podcast and a sought-after speaker and trainer on public speaking, business storytelling, and women's leadership.
Carol teaches business and marketing classes at Full Sail University and during election seasons serves as a political analyst on TV news.
Business Building Insights
Find people who motivate you and see your potential.
Speaking in person allows you to be seen as an expert and authority.
The more you do it, the easier it gets.
As a speaker it's not about you, it's about the audience.
It's the message that you bring to the audience that makes the impact.
The benefits of public speaking are brand awareness, personal branding, lead generation & marketing.
Stick to one to three ideas for your presentation.
As the speaker you're the authority and the guide to help the audience.
Don't rush the ending of your presentation because that's what people remember most.
Finish your presentation with a story.
Make speaking a part of your marketing strategy.
Resources Mentioned
PDF workbook  to help you create more engaging presentations
Contact Links
Gift Biz Resources
Get on the Early Notice List for Sue's new planner, Inspired!

If you found value in this podcast, make sure to subscribe and leave a review in Apple Podcasts or Google Podcasts. That helps us spread the word to more makers just like you.
Thanks! Sue