277 – Introducing Facebook Shops with Jessica Totillo Coster of eCommerce Badassery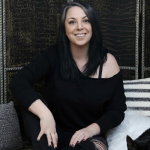 Jessica is an eCommerce & Email Marketing Strategist for boutique owners & product business owners.
She supports scrappy female entrepreneurs with actionable strategies and tactics to grow and scale their eCommerce businesses.
She's worked in corporate retail for over 20 years, owned her own multi 6-figure brick + mortar clothing boutique, and spent 3 years as the ONLY employee of a 7-figure online store learning from the top experts in the digital marketing & eCommerce industry.
Now she's sharing everything she learned the hard way so you don't have to. Today, she's introducing how you can get started with the new Facebook Shops.
This episode is Part 4 of my 6-Part Series covering your top sales platform options.
Catch up on this series here:
Part 4: Introducing Facebook Shops – YOU ARE HERE
BUSINESS BUILDING INSIGHTS
99% of people won't take action when it gets hard. Be part of the 1% and you'll see success.
You can recreate an in-person experience when you sell online and nothing beats that.
The newer you are, the more you need to talk about who you are, what you do, and why people want to buy from you.
Selling is not always direct "here's my product, buy my product." It's also showing how you use the products in your own life.
FB Shops is a way to start but ALWAYS have a platform that you own: website and email list.
Always be clear over clever with your product name and description.
Listen to the full episode for a ton more business tips from Jessica!
Getting Started With Facebook Shops
It takes ZERO dollars to get started with FB Shops – no fees are due until you make a sale.
FB Shops is a great way to validate new products before going all in.
Create a 'Storefront' with lifestyle imagery and branding.
Organize and arrange your products into collections or categories.
Try selling through live videos and tag your products in the live video.
FB Shops is still new. Watch for lots of new features rolled out over time.
Listen to the full episode to hear about exciting future features Facebook has planned for Shops!
RESOURCES MENTIONED
See existing Facebook Shops in Action:
CONTACT LINKS
Website | Facebook | Instagram | eCommerce Badassery Podcast | eCommerce Badassery Facebook Group
---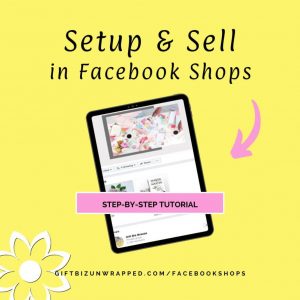 Now Available!
An easy to follow, step-by-step tutorial to get your new Facebook Shop set up and ready to sell. 
---
Join Our FREE Gift Biz Breeze Facebook Community
Become a Member of Gift Biz Breeze
Never Miss An Episode
If you found value in this podcast, make sure to subscribe so you automatically get the next episode downloaded for your convenience. Click on your preferred platform below to subscribe!
Also, if you'd like to do me a huge favor, please leave a review. That helps other creators like you find the show and build their businesses too. You can do so right here: Rate This Podcast
Apple Podcasts | Google Podcasts |  Spotify

Thank you so much! Sue
Know someone who might benefit from this episode?
Click a button below to share it!