261 – Know Who You Are and Stay in Your Lane with Julia of Birnn Chocolates of Vermont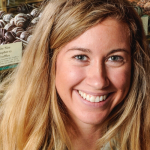 Julia and her husband, Mel are the fourth-generation owners of Birnn Chocolates of Vermont. Julia's great-grandfather started making confections in 1915 in New Jersey and in 1991 her father and uncle moved the business to Vermont.
Julia and Mel are humbled by the opportunity to continue crafting truffles using her family's 100-year-old recipes. The couple started working in the family business in 2010 and in 2016 they took over the reigns as the new owners.
Deciding to join the family business was one of the most influential decisions of Julia's life. Working with her father, uncle and husband on a daily basis has proven to be some of the most rewarding work she's ever done, but also the most challenging.
Each family member brings a variety of value to the team, it's definitely a mixing pot of experiences, learning styles and personalities. Her father and uncle are now retired but many of their long term employees have stayed on and are very excited to see what the future brings.
BUSINESS BUILDING INSIGHTS
You can learn a lot from your employees. Be open to understanding the job from their point of view and listen to suggestions and ideas for improvement.
Have people that you can reach out to. You're not supposed to know it all, that's why you build a team.
Being focused on a single core product makes you as efficient as possible. It also results in a higher quality product, reduced prices for inventory and a clear message to your customer.
Customer service is another area to differentiate yourself. Take the actions that show your customers you are there for them and that you care.
Part of being successful in business is networking and building a community within your industry.
Don't put your eggs in one basket when it comes to vendors. Having multiple options can become critical in time of need.
CONTACT LINKS
Join Our FREE Gift Biz Breeze Facebook Community
Become a Member of Gift Biz Breeze
If you found value in this podcast, make sure to subscribe so you automatically get the next episode downloaded for your convenience. Also, if you'd like to do me a huge favor, please leave a review. That helps other creators like you find the show and build their businesses too.
Thank so much! Sue