179 – The Brave Leap from Shyness to Living Her Passion with Lisa Wojcik of Black Bow Sweets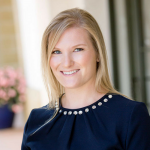 Lisa graduated from UC Santa Barbara in 2005 with a degree in English. But there was a problem, her passion was for art and design.
Unsure about what career to pursue, Lisa made what she considers to be the best decision of her life. She applied to a design school in San Francisco and dropped everything to attend. She earned a degree in Visual Communications and for the following 9 years worked as a visual merchandiser, eventually landing as a corporate visual merchandising manager.
Although Lisa loved her work, she wanted to start a business of her own. It was at this point, she seriously started to entertain an idea that she'd had in her late 20's – selling her mother's candied pecans.
The inspiration came after making the candied nuts for friends who raved about them and encouraged her to start a business.
Finally, at 32, she was ready. Black Bow Sweets is now 3 years old and growing rapidly with an expanded product line and distribution across the US.
Business Building Insights
Get used to and become comfortable with change.
No matter how afraid you are of not succeeding, go ahead and try.
Research is an important step to starting a business.
Spread the word about your new business to families and friends.
Get out into the public eye through community and non-profit events.
It's up to you to get people excited about your product.
Getting positive feedback boosts you up and provides momentum to keep going.
Communication with customers is a solid form of customer service. One way to do this is to let a customer know the progress of their order and then to followup afterwards to get feedback on their purchase.
Write thank you notes to customers. Let them know you appreciate how they have helped a small business grow.
Resources Mentioned
The Daily Greatness Journal – A unique series of lifestyle journals, courses and content for health, fitness, business, personal growth.
Evernote –  Keep your life organized.
Podcast Episodes Referenced
Top Take Aways from 100 Episodes of Gift Biz Unwrapped
Evernote Power! Get Super Productive with Steve Dotto
Contact Links
Gift Biz Resources
If you found value in this podcast, make sure to subscribe and leave a review in Apple Podcasts or Google Podcasts. That helps us spread the word to more makers just like you.
Thanks! Sue