311 – The Power of Staying True to Your Brand with Ximena Bervejillo of Entrelanas Designs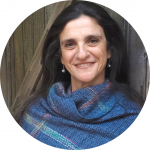 You may think that "brand values" are something only big corporations have to worry about. But the reality is staying true to your brand is something every business – no matter how small – should focus on.
Today's guest shares how staying true to her brand helped her build a successful and thriving handmade business.
Ximena is the hands and heart behind the handwoven creations of Entrelanas Designs.
Her love for yarn and textiles began in her early teens when she first started knitting. This led to crocheting, needle felting, and when she started weaving on a rigid heddle loom – that became her passion.
Coming from Uruguay, where wool and wool products are part of the country identity, she found that creating handwoven garments using Uruguayan pure wool was a way to stay connected to her roots. Today Ximena shares that part of who she is through Entrelanas Designs.
BUSINESS BUILDING INSIGHTS
Test the market. It's different when you hear it from people that you don't know as compared to hearing it from your friends.
Learn how to deal with customers and relate to them.
Establish a direct connection with people through social media.
Build a deeper connection with your followers through live shows where you get to show them the backstage of things.
Put time and effort into promoting your products in all your different channels.
Integrate your business into your life, not the other way around so you continue to love what you do.
The price of your products reflects the quality of them. If you price too low, people will think they are low quality.
Don't try to compete with lower-priced options – stay in your pricing lane.
When your products are priced right, you don't need a lot of sales to make a decent amount of money.
The Power of Staying True To Your Brand Values
As creators, we tend to struggle with pricing. Learn to understand and appreciate the true value of what you make and price accordingly.
If you really do what you love, and you get proof from people around you that what you do is beautiful, it's worth showing to the rest of the world.
Put all your passion, time, and creativity towards your craft and listen to people who love you who can give you good feedback.
Give yourself permission to do things that you love doing.  Look forward to that moment.
Know if you need to raise your prices. Your quality deserves more than what you are asking for. Nobody does exactly the same kind of product you create. There will always be someone who's willing to pay the price.
There will be frustrations and challenges, but focus on your goals and work towards them.
When you feel uninspired, do something else to inspire your creativity. Take a hike, cook something delicious, etc.
Resources Mentioned
Ximena's Contact Links
Website | Facebook | Instagram | Linkedin
---
Join Our FREE Gift Biz Breeze Facebook Community
Become a Member of Gift Biz Breeze
If you found value in this podcast, make sure to subscribe so you automatically get the next episode downloaded for your convenience. Click on your preferred platform below to get started.
Also, if you'd like to do me a huge favor – please leave a review. It helps other creators like you find the show and build their businesses too. You can do so right here: Rate This Podcast
Apple Podcasts | Google Podcasts | Spotify
Thank you so much! Sue
Know someone who needs to hear this episode?
Click a button below to share it!