Tips & Talk 3 – The POWER of Small Gestures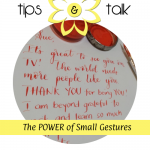 Something happened last week that reminded me of this very important and free way to attract and strengthen relationships. It's free, it comes in all different shapes and sizes … and it's a true gem.
Shoutout to my awesome VA, Michele who is the inspiration behind this episode.
Resources I mentioned here are Bomb Bomb and Bonjoro.
CONNECT with me here:
Website | Facebook | Instagram
JOIN our FREE Gift Biz Breeze Facebook Group specially for handmade product makers.
SUBSCRIBE to the podcast so you automatically receive your new episodes right when they air – no waiting!
Apple Podcasts | Google Podcasts | Spotify
PAY IT FORWARD by leaving a rating and review.
I'd love to hear your comments. Tell me how the show has helped you or a specific guest or point that had an impact. You can do that right here.
Thanks for listening!