Tips & Talk 4 – 4 Steps to a Logo Refresh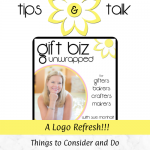 Over time your logo can get stale, look outdated and be in need of a makeover. This does not need to be an overly drawn out process. Just follow these steps and you'll be refreshed in no time!
CONNECT with me here:
Website | Facebook | Instagram
JOIN our FREE Gift Biz Breeze Facebook Group specially for handmade product makers.
SUBSCRIBE to the podcast so you automatically receive your new episodes right when they air – no waiting!
Apple Podcasts | Google Podcasts | Spotify
PAY IT FORWARD by leaving a rating and review.
I'd love to hear your comments. Tell me how the show has helped you or a specific guest or point that had an impact. You can do that right here.
Thanks for listening!