283 – Actions to Build Your Online Presence (That Lead to More Sales!) with Ana Bolanos of Limbo Imports Hammocks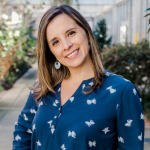 When Ana Bolanos built Limbo Imports Hammocks, she set the stage for sales as soon as her business opened. Today she's sharing actions you can take to build your online business to get more sales.
Ana was born and raised in El Salvador and had always been fascinated by artisan-made goods and craftsmanship.
She came to the United States when she 18 and had always dreamt of owning her own business … one that could make an impact.
True to this vision, Ana partnered with a team of artisans to co-design hammock chairs in a way that preserves the Mayan ancestry yet adds a modern twist.
Each fair trade hammock is one of a kind and allows Ana to celebrate history and her home country's tradition. They're functional pieces that are also beautiful and provide relaxation.
BUSINESS BUILDING INSIGHTS
Focus on your dream, your vision, your why. It will keep you going when things get hard.
If things don't happen as planned, keep going! Pivot and go in a different direction.
Building an audience helps spark people's interest in you and your product. It establishes great relationships with clients.
Always have Plan B in place when Plan A doesn't work. Test things out what works and what doesn't.
Tune in to get all the biz building insights!
How To Build Your Online Presence
Every handmade product is one of a kind and has a story. Share yours to set yourself and your products apart.
Post pictures and stories about your products and ask questions on social media (even if you haven't started your business yet) to build excitement and relationships with future customers.
Have products ready to purchase when you launch your website to encourage immediate sales.
Test out the entire sales process – shopping carts, shipping, labels – everything before you get your first customer.
Educate your customers on how to use and care for your products so there are no reasons for them not to buy.
Have the answers to sales questions customers will ask right there on your website.
Add a card into your product package inviting customers to share and stay connected on social. It's a great way to grow your business.
Consider providing samples to social media influencers to get great promotions and amazing product pictures you won't find anywhere else. But make sure you have a contract.
Get lots more tips by listening to the whole episode!
Ana's Contact Links
Website | Facebook | Instagram | Linkedin
---
Join Our FREE Gift Biz Breeze Facebook Community
Become a Member of Gift Biz Breeze
If you found value in this podcast, make sure to subscribe so you automatically get the next episode downloaded for your convenience. Click on your preferred platform below to get started.
Also, if you'd like to do me a huge favor – please leave a review. It helps other creators like you find the show and build their businesses too. You can do so right here: Rate This Podcast
Apple Podcasts | Google Podcasts | Spotify
Thank you so much! Sue
Know someone who needs to hear this episode?
Click a button below to share it!