013 – How LinkedIn Led to Buying Her Business with Dani Noyes of Olgas Day Spa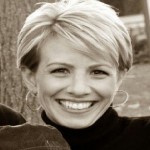 Dani Noyes is the new owner of Olga's Day Spa. She purchased the prestigious spa last year and comes prepared for her new business with 14 years of experience in the salon and spa industry. She has had roles "behind the chair", in management and also training others in the field.
She gives back by being active in the special needs and at risk communities and is a Member of the National Association of Professional Women.
Dani has been married for 6 years and has a 4 year old son who is anticipating a new baby brother in the fall! A golden retriever rounds out the family. In her spare time, Dani enjoys theater, dance, tennis, and hosting theme parties.
Motivational Quote

Business Inspiration
Discovering that she enjoyed the business end of the industry most led Dani in a new direction. [3:00]
A Candle Flickering Moment
She felt the pressure of retaining past clients and employees while bringing in a new vibe and making the business her own. Hear about her motto: Elegance of a Legacy with a Contemporary Twist. [9:25]
The Power of LinkedIn
She was approached through a contact from LinkedIn. An incredible story! [3:51]
Business Building Insight
Events and face-to-face interaction with customers in the spa is key to getting the word out and building awareness of the unique experience Olgas Day Spa provides. [14:31]
Success Trait
A genuine interest in meeting and getting to know people. [21:16]
Productivity/Lifestyle Tool
Millennium – Achieve success with flexible platforms, tools and processes that help you understand, interact and collaborate with customers better, and which help deliver products and services that customers' value.
Google Calendar – With Google's free online calendar, it's easy to keep track of life's important events all in one place.
Weekly Business Plan – She creates this herself highlight 3-4 goals specific actions to keep her week on track.
Valuable Book
The Outliers by Malcolm Gladwell
Contact Links
If you found value in this podcast, make sure to subscribe and leave a review in Apple Podcasts or Google Podcasts. That helps us spread the word to more makers just like you. Thanks! Sue