130 – Entrepreneurial You! Monetize Your Expertise with Dorie Clark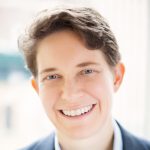 Dorie Clark is an adjunct professor at Duke University's Fuqua School of Business. She's also the author of Entrepreneurial You, Reinventing You and Stand Out, which was named the #1 Leadership Book of 2015 by Inc. magazine.
A former presidential campaign spokeswoman, the New York Times describes Dorie as an "expert at self-reinvention and helping others make changes in their lives."
Dorie is a frequent contributor to the Harvard Business Review and consults and speaks for clients including Google, Microsoft, and the World Bank.
You can download her free Recognized Expert Evaluation Toolkit and learn more at dorieclark.com/toolkit.
Dorie's Story
Dorie's background that led to where she is today. [3:06]
The importance of Dorie's mission. [4:47]
A description of Entrepreneurial You. [6:02], [23:10]
Dorie's personal approach to getting people together. [13:29]
Challenging herself through stand up comedy. [19:24]
Self reflection and adjustments she made in her life. [19:56]
Challenging Moment
What can happen if you don't test your concept first. [28:52]
Business Building Insights
Advice on reinventing yourself. [8:02]
Ways to get noticed. [9:22]
How to answer the question, "What's new?" [10:02]
Networking in a difference sense. [11:58]
How to identify what is special about you. The 3-Word exercise. [16:30]
Diversify your income streams. [24:16]
A lean start up approach: Small bets and reiterating. [26:32]
Understanding that everything has already been created. [30:29]
3 specific ways you can become a recognized expert. [36:27]
Staying Current in the Industry
Facebook Groups
Podcasts
Productivity/Lifestyle Tool
Schedule Once -Meeting and appointment scheduling software that helps you save time, increase customer satisfaction and be more competitive.
Recommended Reading and Listening
Entrepreneurial You by Dorie Clark
Reinventing You by Dorie Clark
Stand Out by Dorie Clark
Contact Links
Free Entrepreneurial You Self Assessment [18:06]
If you found value in this podcast, make sure to subscribe and leave a review in Apple Podcasts or Google Podcasts. That helps us spread the word to more makers just like you. Thanks! Sue