289 – How to Attract Customers and Boost Your Holiday Sales with Amanda Berlin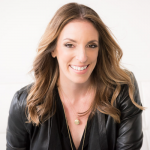 With so many things off the table this year – live events, conferences – you may wonder how to attract customers in this new environment. Well, some activities such as connections and relationships still work just fine. Amanda is here to tell us how to use these tools to boost our holiday sales and more.
After more than a decade in the New York City public relations world, Amanda Berlin now uses her pitch powers for good. She helps entrepreneurs step into their presence, create a story that inspires others, and spread their message in the media.
Amanda has created a library of template guides and trainings and works one on one with clients to guide them to strategic storytelling and media relations based on her 12 years of experience guiding strategy for major brands in the corporate world.
Amanda and her clients have been featured in all types of media — from Business Insider to Entrepreneur on Fire and from WNYW Fox 5 to Bustle.com. She's the host of The Empowered Publicity Podcast and loves arming soul-powered business owners with the ideas and skillset they need to go from hidden industry gem to recognizable trusted expert.
BUSINESS BUILDING INSIGHTS
Create and nurture connections that will nourish you as a person and as a business. When things go sideways, you can support each other in a variety of ways.
Develop your courage to reach out and nurture relationships.
Use 3 pillars to become more visible: <– listen in for the full explanation!

collaborations and alliances
speaking and events
and media

Build relationships with people who speak to the same audience that you speak to, but do something different from what you do.
Create valuable experiences for your connections and have your products available as a takeaway at the end.  <– Tune in for examples!
See if you can get into the newsletters of the companies that normally put on events and conferences. Or articles in local newspapers and magazines. <– Tune in for pro tips!
Tell the story of how you do things. No one has traveled the same path you have. Lean into your story to distinguish yourself from others.
Remember there are people out there looking for you. You are the answer to someone's prayers and they'll be grateful to find you. So raise your voice so they can find you!
Make sure to tune in to the full episode to get all the specific tips & tricks!
Resources Mentioned
Amanda's Contact Links
Website | Facebook | Instagram | Twitter
---
Join Our FREE Gift Biz Breeze Facebook Community
Become a Member of Gift Biz Breeze
If you found value in this podcast, make sure to subscribe so you automatically get the next episode downloaded for your convenience. Click on your preferred platform below to get started.
Also, if you'd like to do me a huge favor – please leave a review. It helps other creators like you find the show and build their businesses too. You can do so right here: Rate This Podcast
Apple Podcasts | Google Podcasts | Spotify
Thank you so much! Sue
Know someone who needs to hear this episode?
Click a button below to share it!