288 – How to Manage Stress in Business to Achieve a Happier and Healthier Life with Kajal Khurana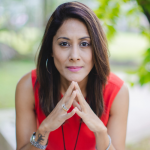 Let's get serious for a moment. Stress is a major issue for modern humans – and especially for those of us running a business! So today we're talking about how to manage stress in business so that we can live happier and healthier lives.
My guest for this topic is Kajal Khurana, an Author, Podcast Host, and Wellness Coach.
Since 2010, she has helped professionals, entrepreneurs, and working mothers develop a positive mindset, gain clarity in business, improve the quality of their sleep and adopt healthy eating habits, so they stay productive and achieve their goals faster.
Kajal is passionate about helping people transform their lives by becoming their own accountability partner in their transformation journey.  She believes that "you have the power to become a better you" in an easy way so it becomes your lifestyle rather than being a struggle.
How to Manage Stress in Business
Understand that everyone's path to health will be different. There is no one-size-fits-all solution.
Stress is inevitable. You can't avoid it, but you can manage it.
Becoming internally strong makes handling whatever external circumstances are thrown at you much easier.
Be aware of what's happening inside your body. The right balance of the sympathetic and parasympathetic nervous systems is important.
Social media can cause the dysfunctional release of dopamine in our bodies. Be aware and adjust accordingly.
Avoid shiny object syndrome and stop comparing yourself to others.
How to Reduce Stress During the Holidays
Be committed to the process. Without commitment, nothing happens. Transformational progress requires long-term practice.
Take the first 10 minutes every morning to plan your day. Schedule in time for healthy behaviors.
Journal about your goals for the day and how you will achieve them. Focus on positivity and affirmations.
In addition (or instead of journaling), make time to connect to nature. Just being out in nature releases stress and fills your body with fresh oxygen.
Find some way to get exercise to energize your body and mind, even if it's just a little. If you can't get outside, do something inside.
Sit and connect to your breath. Be present in the moment. Cut the external noise and connect to your own self.
Make sure you get good sleep.
Tips to Reduce Stress Over the Long Term
Take baby steps in your pursuit of better health. Once you've mastered one, move to the next lifestyle change.
The food you put in your body plays a major role in your emotions.  Be mindful of what you're eating. Choose fresh food over processed food.
Have a clear WHY you want to get healthy and you'll just do it.
Pro tip! –> The prime hours of sleep are important: one hour before you sleep and one hour when you wake up. The prime hour before you sleep will define the quality of your sleep. The prime hour after you wake up will define the quality of your day.
There are so many MORE tips in this episode! Listen in to get them all.
Resources Mentioned
Kajal's Contact Links
---
Join Our FREE Gift Biz Breeze Facebook Community
Become a Member of Gift Biz Breeze
If you found value in this podcast, make sure to subscribe so you automatically get the next episode downloaded for your convenience. Click on your preferred platform below to get started.
Also, if you'd like to do me a huge favor – please leave a review. It helps other creators like you find the show and build their businesses too. You can do so right here: Rate This Podcast
Apple Podcasts | Google Podcasts | Spotify
Thank you so much! Sue
Know someone who needs to hear this episode?
Click a button below to share it!