309 – How to Have a Successful Handmade Business with Cassie Menchhofer of Cassie's Country Cupboard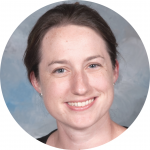 Don't let the challenges of owning a small business crush your dreams of success. Because today, we're diving into exactly how to have a successful handmade business – step by step.
Cassie is the owner of Cassie's Country Cupboard, a small food manufacturing company based in rural West-Central Ohio.
Learning to love cooking from a young age, Cassie has held a variety of positions in the food world including short-order cook, quality assurance inspector at a rice cake factory, and summer camp cook assistant.
Cassie's Country Cupboard began in 2011 as a small cottage-food-based business and has grown into a commercial business serving customers nationwide with the help of Cassie's husband Curt and her two sons aged 9 and 12.
Along with creating pantry items such as soup starters, baking mixes, and spice blends, Cassie also offers co-packing services to small companies who want to expand without investing in huge amounts of product.
BUSINESS BUILDING INSIGHTS
Things don't need to be perfectly in place at the start. You just need to begin. Confirm there's a market and that people will buy and go from there.
Decide what you need to focus on at any given moment to avoid overwhelm. Just make a choice about what is most important at that moment. Sometimes it's the family, sometimes it's the business, sometimes it's just relaxing.
How to Build a Successful Handmade Business
Packaging:

Your packaging is your first impression on the customer.
Remember we eat with our eyes before our tongues. Food packaging needs to look good and keep everything fresh.
Put prices right on the package so people don't have to ask. If they don't know the price, some people will just walk away rather than ask.

Food Products:

If you sell food products, make sure you understand the local cottage food laws and are in compliance.
To ship food products nationwide, you'll need to get a commercial kitchen or production facility.
Sharing recipes online is a great way to build your business because people love to share recipes and it doesn't feel salesy.

Growing Your Handmade Business:

Grow your business by reaching out to businesses that might bring your products into their store.
Be available online to make purchasing from you convenient.
Participate in online shows where people can see your products.  You'll also meet other vendors and build relationships and opportunities.
For online shows, don't include everything you make in the booth because it might be overwhelming. Make your product selection smaller and focus on the best sellers. Keep bestsellers front and center.  <– Pro tip!
Increase visibility by sharing videos. Potential customers will get a feel for your personality and get to know you through videos.
Get more reach in your business through social media. Share valuable content that's relevant to your target market.

Tune in to the full episode to hear so much more about Cassie's journey from just beginning to building her own private production facility!
Resources Mentioned
Cassie's Contact Links
Website | Facebook | Instagram | Linkedin
---
Join Our FREE Gift Biz Breeze Facebook Community
Become a Member of Gift Biz Breeze
If you found value in this podcast, make sure to subscribe so you automatically get the next episode downloaded for your convenience. Click on your preferred platform below to get started.
Also, if you'd like to do me a huge favor – please leave a review. It helps other creators like you find the show and build their businesses too. You can do so right here: Rate This Podcast
Apple Podcasts | Google Podcasts | Spotify
Thank you so much! Sue
Know someone who needs to hear this episode?
Click a button below to share it!