Tips & Talk 1 – Are You Making this HUGE Startup Mistake?
It goes against all your instincts but offering too wide a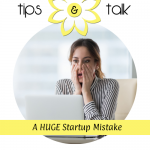 variety of products will block your ability to sell your products.
As a maker, you love being creative and have the skills to make so many beautiful or delicious things. This is where the problem begins.
Listen in to hear why this is a problem and what to do about it.
CONNECT with me here:
Website | Facebook | Instagram
JOIN our FREE Gift Biz Breeze Facebook Group specially for handmade product makers.
SUBSCRIBE to the podcast so you automatically receive your new episodes right when they air – no waiting!
Apple Podcasts | Google Podcasts | Spotify
PAY IT FORWARD by leaving a rating and review.
I'd love to hear your comments. Tell me how the show has helped you or a specific guest or point that had an impact. You can do that right here.
Thanks for listening!