308 – Is Your Biz Ready to Run Facebook Ads? with Shelby Fowler of Fempire Media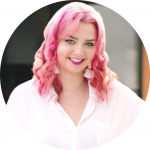 Do you find the idea of running Facebook ads scary? If so, you're in luck. Because we're getting into how to use Facebook ads effectively for your handmade product business – even if you've never done it before.
Shelby is the founder and CEO of Fempire Media, a Facebook and Instagram Ads Agency. She is obsessed with ads and helps women scale their businesses using paid promotion.
In addition to running ad campaigns for her clients, Shelby takes interest in empowering female entrepreneurs to set up and manage their own profitable Facebook and Instagram ads.
On the personal side, Shelby loves reality television, prosecco, and cooking with her two daughters.
BUSINESS BUILDING INSIGHTS
When you're ready to get help with your business, hire a platform specialist. They'll be able to help you faster than a generalist who does everything (especially when it comes to ads).
How to Use Facebook Ads
General Facebook Ads Tips:

Ad platforms like Facebook and Instagram are constantly evolving and changing. And with ads, it changes weekly. If it's not your specialty, you'll miss things.
To grow your business, you need to adapt, pivot, and tap into resources. That's when you might decide to pay for ads to scale your business faster and easier.
When you want to run ads, Facebook is the platform to use because of the data it has and the ability to niche down in targeting.
There is a power in the targeting Facebook offers that no other platform can match.
If you don't have a lot of sales, that's not the time to run ads. Running ads will amplify what you're already doing in your business.
Keep marketing organically until you have enough data about your business and products.
Before you run ads, you MUST know:

The lifetime value of a customer
Your average order value

How to Run Facebook Ads:

You must have a Facebook business Page (not a personal profile).
Create your ads inside the Facebook Business Manager.
Do NOT use the Ad Center of your business page. That creates a boosted post instead of a real ad. <– Pro tip!
A boosted post is not an ad.
For targeting, you can run the same ad to four different groups. Don't touch it for two days to see which group performs best. Then shut down the ad to the groups that did not go well.
Bright-colored graphics get people to stop scrolling and click on your ad.  <– Listen in for more on how to create effective ads.
Your cost per customer acquisition should be about 30% of your average order value.
3 big mistakes to avoid:

Boosting posts instead of running ads
Not investing enough money
Giving up instead of tweaking for better performance

Tune in to the full conversation to get lots more Facebook ads tips and tricks PLUS get the secret $5 a day ads strategy to build your audience!
Resources Mentioned
Shelby's Contact Links
Website | Facebook | Instagram
---
Join Our FREE Gift Biz Breeze Facebook Community
Become a Member of Gift Biz Breeze
If you found value in this podcast, make sure to subscribe so you automatically get the next episode downloaded for your convenience. Click on your preferred platform below to get started.
Also, if you'd like to do me a huge favor – please leave a review. It helps other creators like you find the show and build their businesses too. You can do so right here: Rate This Podcast
Apple Podcasts | Google Podcasts | Spotify
Thank you so much! Sue
Know someone who needs to hear this episode?
Click a button below to share it!