314 – Things to Do Now to Sell Your Business Later with Chelsea Clarke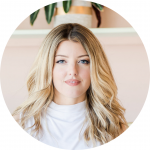 Today, we're talking about how to sell your business – and some things you can do now to set yourself up for a profitable sale later.
Because even if you just started a business, things do change over time and the day might come when you're ready to sell.
Chelsea is a content monetization strategist and business broker. She helps investors acquire profitable online businesses while providing a way for content creators and small business owners to have gainful exits from those businesses.
Chelsea founded BlogsForSale.co, a boutique brokerage and marketplace for buying and selling niche websites, eCommerce sites and media properties. She's obsessed with the strategy behind growing an online business, from growth-hacking to funnels to creative monetization.
BUSINESS BUILDING INSIGHTS
Enjoy the journey.
Focus on what you are doing, believe in your vision, and stay focused on that path.
Find and connect with the people who will become your customers and your community.
Collect email addresses.  Focus on growing your list and building that relationship with your community through newsletters.
Thinking Ahead For How To Sell Your Business
Don't put your name on anything that you might want to sell down the road.
What really cool product (whether it's digital, or physical) can you create that doesn't rely on you being the one to be able to provide it?
Even when you first start building your business or are just coming up with a business idea, have an exit plan or even just an idea of an exit strategy, right from the start.
Be consistent about tracking your profit and loss. It's easy for the buyer to see where they might be able to fit in the business and what expenses they can expect.
Set up Google Analytics on your website right from day one. Every potential buyer will want to check the analytics to confirm you really are getting the traffic.
Common mistake: Don't slack off on your business when you put it up for sale. It's important to continue to actively run the business – make sales, drive traffic, etc.
Tune in for TONS more fascinating details and tips on selling a business! 
Resources Mentioned
Chelsea's Contact Links
Website | Facebook | Instagram
---
Join Our FREE Gift Biz Breeze Facebook Community
Become a Member of Gift Biz Breeze
If you found value in this podcast, make sure to subscribe so you automatically get the next episode downloaded for your convenience. Click on your preferred platform below to get started.
Also, if you'd like to do me a huge favor – please leave a review. It helps other creators like you find the show and build their businesses too. You can do so right here: Rate This Podcast
Apple Podcasts | Google Podcasts | Spotify
Thank you so much! Sue
Know someone who needs to hear this episode?
Click a button below to share it!