Tips & Talk 6 – Craft Show Convo Part 1 – Selection and Results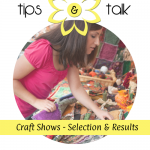 Celebration Time! Craft shows are finally coming back and we're all ready to be together and have face-to-face (screenless) conversations again.
Whether you've just started your business and are looking for your first sales, or you've just never considered a local consumer show as a way to sell your products, here's how to figure out which show(s) is right for you.
Craft shows, farmer's markets, church bazaars, county fairs and flea markets – there are a lot of options!
And guess what? There's still more to do when the show is over and you've packed up and left. Now it's time to analyze your results to decide if it's a repeat for next time or you should move on. This isn't as obvious a decision as you may think. It's not only about sales.
CONNECT with me here:
Website | Facebook | Instagram
JOIN our FREE Gift Biz Breeze Facebook Group specially for handmade product makers.
SUBSCRIBE to the podcast so you automatically receive your new episodes right when they air – no waiting!
Apple Podcasts | Google Podcasts | Spotify
PAY IT FORWARD by leaving a rating and review.
I'd love to hear your comments. Tell me how the show has helped you or a specific guest or point that had an impact. You can do that right here.
Thanks for listening!