313 – How to Start a Craft Business from Home with Sophy Lakshmanan of Miss Paper Craft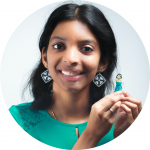 Do you see other people selling their handmade products and wonder how to start a craft business from home yourself? That's what we're diving into today.
Sophy is the face behind Miss Paper Craft, a Paper Quilling store, making intricate jewelry, ornaments, and keepsake dolls.
She paper quilled as a hobby when she was in India, making gifts for friends and family. After moving to the US, she noticed that Paper Quilling wasn't widely known here and jumped at the opportunity.
Her goal is to share the paper quilling experience with more people through her jewelry, DIY craft kits, and online classes.
Side fun fact – Sophy is also a Chartered Accountant on the side.
BUSINESS BUILDING INSIGHTS
Give your customers an amazing experience with your products.
Be consistent with social media. Be more present through videos where people can see you demonstrate how you create your products.
Collect emails to reach out to potential customers.
You learn best by doing. Even if things don't work out as planned, you will learn so many things that will help you the next time.
How to Start A Craft Business From Home
Turn a hobby into a business once you see the potential that people like what you're doing.
If your product is something unique and new to people, take the time to explain what it is so they understand and appreciate it better. It's also a great avenue to start conversations.
Start small and work your way into things that are scary. For example, if you're uncomfortable showing your face on video, talk from behind your phone and show your hands while you create something.
Resources Mentioned
At Home Craft & Gift Show
Sophy's Contact Links
Website | Facebook | Instagram
---
Join Our FREE Gift Biz Breeze Facebook Community
Become a Member of Gift Biz Breeze
If you found value in this podcast, make sure to subscribe so you automatically get the next episode downloaded for your convenience. Click on your preferred platform below to get started.
Also, if you'd like to do me a huge favor – please leave a review. It helps other creators like you find the show and build their businesses too. You can do so right here: Rate This Podcast
Apple Podcasts | Google Podcasts | Spotify
Thank you so much! Sue
Know someone who needs to hear this episode?
Click a button below to share it!